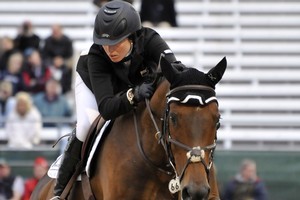 Top Kiwi showjumper Katie McVean continues to set the equestrian world alight - this time in announcing the sale of her stunning home-bred mare Dunstan Delphi for an undisclosed multi-million dollar deal.
In what will surely be the most expensive horse ever sold out of New Zealand, nine-year-old Delphi is set to become a star for the Saudi Arabian Equestrian Federation who will co-own her with a yet un-named rider.
According to reports last week McVean turned down a $10 million offer for Dunstan Delphi.
McVean and Delphi set records recently with their sixth equal placing at the World Cup final in Germany, and last year as New Zealand's best-ever performed showjumping combination at the World Equestrian Games in Kentucky.
Speaking from Holland this morning, 24-year-old McVean says her horse was never intended for sale, but as soon as they had their first Europe outing in March, horse agents started asking.
"People were saying she looked to have the most scope of any of the horses jumping at the World Cup final and she was doing it with so little effort."
The successful buyers had watched her go at the World Games in Kentucky and followed her progress.
"We came to Europe not wanting to sell her and I truly believe we were a huge chance for a medal at London with a little more experience on the European circuit," she says. "The decision was a very very hard one to make."
McVean, who is now ranked 101 in the world, says to compete on the likes of the Global Champions Tour is incredibly expensive.
"It was going to cost a fortune to do it and anything could happen."
She has no doubt her intuitive and trusting steed knows something is up.
"She knows something is going on, and I've taken a ridiculous amount of photos of her over the past few days. But I'm very excited to see her go with her new rider and they've said if I ever want to see her I am most welcome."
She will fly home with her father later this week.
"There is still a small chance, but I think I am going to have to give up on my London (Olympics) dream and start over. It has been my goal for a long time but if I tried to keep her and everything had gone wrong, I would have had nothing - this way I can set up for the future, and maybe next time I won't have to sell."
At home in the Waikato, she has eight 'babies' who are all half siblings to Delphi.
"Now I need to get home and get them going."
Jeff McVean said he had every faith in the future of his very talented daughter, who herself competed at the 2008 Beijing Games.
"Horses can break," he says. "Katie is young, has a lot of nice horses at home and I think her talent has been a bit underrated. We just don't have all the money in the world to be able to support her and keep her going over here at this level."
He said the sale was sad for Equestrian Sports New Zealand (ESNZ) as the combination were favourites to help the nation qualify for the London Olympics.
"The horse was just such a sensation over here and what's even more special is that Katie started her from scratch. This is huge for New Zealand breeders for the future."
- HERALD ONLINE