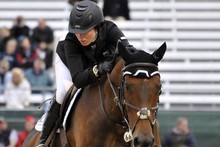 New Zealand Olympic showjumper Katie McVean is having to knock back big money offers for her horse Dunstan Delphi.
McVean and Dunstan Delphi have sparked the interest of a number of suitors after finishing sixth at the World Cup in Germany.
It's understood an Arab consortium has offered up to $10 million dollars to buy Dunstan Delphi.
But McVean says she won't be selling her prized horse.
She says she is being offered ridiculous money and it's hard to say no to.
McVean's next major event is the Olympic qualifier in Germany in July.
- NEWSTALK ZB