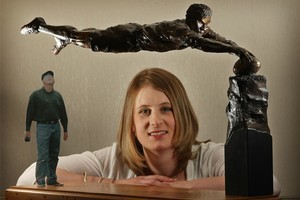 An Auckland artist will rush to complete an enormous bronze statue of Michael Jones for the Rugby World Cup after last-minute funding was approved.
Natalie Stamilla's plan to construct a 1 1/2 scale sculpture of Jones was set back last year due to Eden Park's hesitation in backing it, and a lack of cashflow.
But Contractors Bonding Ltd have stumped up $300,000 to fund the project, which will be on permanent loan to the redeveloped stadium.
The sculpture immortalises one of the most famous images in Rugby World Cup history - Jones diving across the try-line against Italy in the 1987 tournament.
Ms Stamilla, a fine arts graduate, is determined to make sure the complex construction will be completed and installed by August, in time for the opening games of this year's World Cup.
The sculpture pattern has just been completed with casting expected to begin shortly at Artworks Foundry in New Lynn.
Its design is based on a photograph of the iconic image that was captured by Geoff Dale, Ms Stamilla's father, who worked as a press photographer during the 1987 World Cup.
Michael Jones has said he was humbled to have a statue in his likeness, but was happy for it to go ahead if it was appropriate.
Contractors Bonding Ltd chief Peter Harris said the sculpture "just had to be made".
"Not only was Michael Jones the first ever try scorer in the first Rugby World Cup, he is a truly inspirational Kiwi who has had a great influence on rugby communities here, in Samoa and around the world.
"We are not good at commemorating our heroes, and frankly we should do more of it."