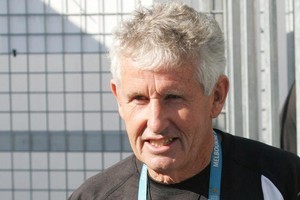 New Zealand cricket team manager Dave Currie has resigned after two years in the job and will now concentrate on marshalling the country's contingent to next year's London Olympic Games.
Currie, better known as New Zealand's chef de mission to a number of Commonwealth and Olympic Games since 2002, became Black Caps manager in February, 2009.
There was a mutual agreement made for Currie to pull stumps after the World Cup which was to climax tonight with joint-hosts India and Sri Lanka meeting in the final.
New Zealand exited the tournament when they lost to Sri Lanka in the semifinals after upsetting South Africa in the quarterfinals.
Currie said today his two-year stint had been an excellent one.
"It has been an honour to manage the Black Caps and I am proud to have worked with Daniel Vettori and the team over the past two years," he said.
"They is plenty of talent in the group and it was tremendous to be part of the World Cup campaign.
"I am sure they will go from strength to strength in the future. I wish them well."
NZC chief executive Justin Vaughan said Currie had performed well in what could be a challenging logistics and support role.
"It is fitting that Dave should finish with the Black Caps in the sub-continent where he has spent so much time as team manager.
"It is widely acknowledged as a difficult place to tour and requires skills of a top-quality administrator not to mention a steady temperament and Dave has proved to have both.
"We commend him for his integrity and the professionalism he has shown under difficult circumstances and wish him well in the future."
NZC said it would announce a replacement in due course.
The New Zealand Olympic Committee said in a statement it was putting more resource behind its London Olympic Games team.
Currie had answered a call to become a dedicated chef de mission more than a year out from the games.
"We're gearing up to provide the best possible environment for sport and athletes at the Olympic Games," NZOC secretary general Kereyn Smith said.
"With around sixteen months to go, we need Dave fully dedicated to Olympic preparations.
"Dave has a proven track record and we're delighted he will focus exclusively on delivering a successful team that will make us proud at London."
Olympic ambassador and strong contender for the games cycling team, Alison Shanks, welcomed Currie's appointment.
"Sports and athletes are well into London preparation and it's great that the New Zealand Olympic Committee is matching this," she said. "To have the chef de mission one hundred per cent dedicated more than a year out shows the committee's commitment to producing performances in London.
"Dave's experience and approachable personality gives me confidence as an athlete that we have the right people leading us to London."
Currie has indicated London will be his last Olympic Games as chef de mission, ending a decade in the role which began at the Commonwealth Games in Manchester.
- NZPA