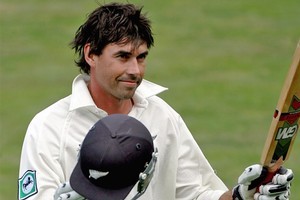 New Zealand cricket greats, a former All Blacks skipper and a The Hobbit acting great will join Stephen Fleming and Shane Warne in the "Fill The Basin for Christchurch" Twenty20 match in Wellington next Sunday
"There has been a tremendous response from everyone I have approached about playing," said former New Zealand cricket captain Fleming.
"The crowd will be treated to an entertaining and competitive match from these two sides.
"Personally I relish the chance to captain a side against Martin Crowe," Fleming said.
"I know that Craig McMillan and Jonathan Millmow have some scores to settle and it will be great to see Bruce Edgar return to the Basin.
Fleming said another highlight for the match would be the special appearance of Hobbit actor Sir Ian McKellen as match referee.
"We are in talks with a number of international and national celebrities who are keen to join Russell Crowe in being involved and there will be further announcements during the week," he said.
"This match is shaping up to be the event of the year."
He appealed for people to "Fill the Basin" and help show their support for Canterbury."
The teams:
Wellington Legends XI: Martin Crowe (captain), Andrew Jones, Bruce Edgar, Chris Nevin, Ewen Chatfield, Gavin Larsen, Jason Wells, Jonathan Millmow, Matthew Bell, Richard Petrie, Roger Twose, Tana Umaga.
Canterbury Invitation XI: Stephen Fleming (captain), Nathan Astle, Geoff Allott, Mark Ellis, Mark Greatbatch, Sir Richard Hadlee, Rod Latham, Craig McMillan, Dion Nash, Adam Parore, Justin Vaughan, Shane Warne.
- NZPA