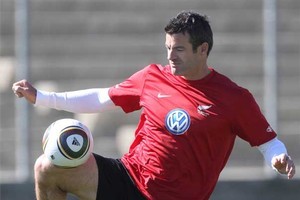 All Whites soccer captain Ryan Nelsen is winging his way home to Christchurch to do his part to aid the recovery from the devastating earthquake.
Nelsen was expected to land today or tomorrow after being granted permission by his Blackburn Rovers manager Steve Kean to fly to his home city after the 6.3-magnitude quake.
The Blackburn club captain was sent off in Saturday's 4-1 loss to Aston Villa meaning he is automatically suspended for the Rovers' next match on Sunday. After that match, Blackburn do not play again until March 19.
Nelsen's agent, Hamish Miller, told The Press the central defender would be in Christchurch "for a few days" and "just wants to play some part" in the recovery effort.
The 33-year-old, who sported a black armband in the defeat to Aston Villa, faced an anxious wait to make contact with family and friends in Christchurch after the tremor and was greeted with the news that his sister went into labour during the quake and gave birth to a son.
Kean told the club's website that Nelsen had been the model professional despite the turmoil.
"It has been a really tough week for Ryan obviously with all the commotion back home. He has shown total professionalism, he's trained every day and really wanted to play.
"The manner in which he has conducted himself and trained has been tremendous," Kean said.
Nelsen would bring back autographed Blackburn memorabilia which will be auctioned in aid of the earthquake relief fund.
- NZPA