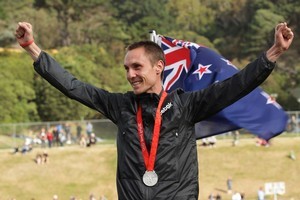 Olympic silver medallist Nick Willis overcame a double whammy of emotion in running a well-paced sub-four-minute mile at Wellington's Newtown Park yesterday.
An hour after finally being presented with his Beijing Olympic silver medal, and in a meeting he organised as a fundraiser for the victims of the Christchurch earthquake, Willis clocked 3m 58.37s into a stiff Wellington southerly.
The minor places were filled by Willis' American training mates. Will Leer was second in a time of 3m 58.80s and Brandon Bethke third in 4m 00.04s.
Another training partner, top-ranked American middle-distance runner Alan Webb, who earlier in the evening ran the 800m, helped the early pacemaking as the field reeled off 60s laps after a 58s for the opening 400m.
Willis, tucked in behind, was given a luxury ride as Webb pulled out with 600m to go and Leer took over at the front.
With 200m to go, Willis eased into the lead, wound up the tempo and edged out Leer in the last 50 metres.
No stranger to the Wellington wind, Willis was still shaken at its strength.
"The first 300m felt awesome but then we hit the home straight with a tail wind. The pacemaker really accelerated, and that didn't feel good on the legs," he said. "I thought maybe the emotion of the occasion had made me fatigued, but I was able to re-compose."
Willis was particularly grateful at the load taken up by his American training partners.
"They told me after the medal ceremony they'd be willing to take the lead after the rabbit pulled out, because of all the emotion," he said.
"I owe a lot to them that I didn't have to go out and make that sacrifice at the front. That really helped me to have the confidence that, despite the fatigue and tiredness, I'd be there for the last 100m and then it was just whoever had the most at the end."
Willis finished third at the 2008 Beijing Olympics, but was elevated to second after winner Rashid Ramzi tested positive for a blood-boosting drug.
The Lower Hutt runner was due to finally be presented with his silver medal at the international track meeting scheduled for today in Christchurch.
But, with the event cancelled because of Tuesday's 6.3-magnitude earthquake, International Olympic Committee member Barry Maister instead presented Willis with his medal in an emotional ceremony at today's hastily organised meeting.
- NZPA