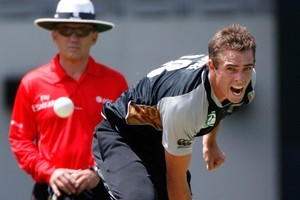 It's been a long time coming, but the Black Caps have finally put a smile on our faces.
The long-suffering public who have squirmed through successive fiascos hoping in vain for a sign that the players were emerging from their malaise got their overdue reward this week with the news that young Tim Southee had played a swashbuckling knock in a warm-up encounter en route to the World Cup.
In the best traditions of nudge nudge, wink wink double entendre pioneered by the BBC's Brian Johnston ("There's Neil Harvey standing at slip with his legs wide apart, waiting for a tickle"), cyberspace was abuzz with references to probing deliveries and bowling a maiden over.
Southee had proved to be quicker through the air than previously thought, hence the improvement in his first-class average. By starting their campaign with a bang, the Black Caps showed they were peaking at the right time.
Even the fact that this incident wasn't - by some margin - what it was cracked up to be didn't make it any less diverting. In these sex-crazed times one would have to be unworldly if not monastic to regard flirtatiousness culminating in a peck on the cheek as "the worst possible sort of lewd behaviour".
One way or another Southee will benefit from this episode because recent history shows that being a naughty boy does wonders for a cricketer's career.
Like Jesse Ryder, who seems to become more of a folk hero with every lapse, the most popular and therefore marketable English cricketer of recent times is Andrew "Freddie" Flintoff. His coach and captain weren't amused when Flintoff was found drunk in charge of a pedalo off the coast of St Lucia during the last World Cup, but everybody else was.
Flintoff's predecessor as English cricket's loveable rogue was Ian Botham, who once scored a blazing test century after sitting up all night drinking cognac. Of course we don't know how he performed on all the other occasions when his pre-match routine defied conventional wisdom.
His misdemeanours ranged from reefer madness to destroying a hotel bed in the course of an illicit wallow with a former Miss Barbados who was as amply proportioned as he was.
The trail of havoc otherwise known as Botham's career led to Buckingham Palace and the Queen saying, "Arise, Sir Ian."
Botham might have been embraced by the establishment, but he hasn't become respectable.
During the recent Ashes series bystanders had to restrain him when his three-decade feud with former Australian captain Ian Chappell threatened to erupt into fisticuffs.
David Boon's place in Australian cricketing folklore was cemented when he drained 54 cans of beer on a flight from Australia to England, breaking the record set by another much-loved larrikin, Doug Walters.
Boon later became a national selector, as did one of the dope-smoking Black Caps sent home in disgrace from the 1995 tour of South Africa. Another went on to become our longest-serving captain.
Meanwhile, in Melbourne Shane Warne, the biggest rascal of them all, has turned his pad into a media-proof fortress so he and Liz Hurley can continue in private the relationship which up till now has been a tabloid and Twitter soap opera.
Not everyone saw the funny side of Southee's high jinks. Players' Association boss Heath Mills asked us to imagine what Southee's mother had had to go through "for a couple of hours," before denouncing Black Caps manager Dave Currie for not having defused the speculation.
You'd have to say that two hours of tittle-tattle don't amount to much compared to the poisonous, long-running whispering campaigns which have been mounted against some of our leading sportspeople, notably our greatest batsman Martin Crowe.
Secondly, one has to wonder - yet again - about the set-up of cricket in this country when the players' shop steward can publicly lambast the manager on their behalf. If the players felt Southee was ill-served by Currie, why didn't they take it up with him themselves?
There are suggestions, bolstered by Ross Taylor's million-dollar IPL windfall, that our cricketers will soon earn more than our rugby players. If the Black Caps want to earn anywhere near the level of respect accorded the All Blacks, they urgently need to address the perception that their preciousness and sense of entitlement are in inverse proportion to their achievements.
Nevertheless we wish them well. The Southee non-affair may be a good omen: Boon's binge took place before the 1989 series in which Australia unexpectedly regained the Ashes after years in the doldrums.