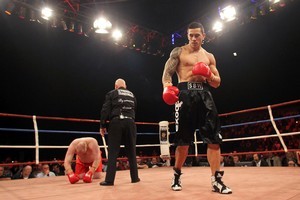 Compiling a list of boxing's greatest mismatches is a bit like sifting a beach to find 10 noteworthy grains of sand. There have been so many, and they bear such similar characteristics, that it's just not possible to produce anything resembling a defensible job. So let's not bother.
Instead, in honour of SBW's next foray into the wacky world of pugilism, here's a list of contests - almost certainly not the right word here - that have done less than cover the great sport in glory. Feel free to re-arrange, add and delete at your own leisure.
ONE: SBW v Gary Gurr and Ryan Hogan
Kiwi hard(ish) man Gary Gurr was billed as "mad as a bag of snakes with the speed, guts and determination of a group one race horse" ahead of his first boxing fight against our man Sonny Bill Williams.
The mad bit turned out to be right, but our Gary was no Phar Lap. Although he certainly talked a good game - "F*** you guys speak a whole bunch of crap.
All I've heard from you is talk, talk, talk. Let's get it going," was his best effort at the pre-fight presser.
Sadly, after one half-decent upper cut by SBW, Gurr was revealed to be more mouth than trousers, lasting just a round-and-a-half before disappearing into anonymity with a mouthful of canvas.
Danny Green described Williams' next victim - the ever so slightly out of shape Ryan "Hulk" Hogan - as "not even in a condition to jog to the fridge". A bit rich coming from Green (see 8) but still on the money, with The Hulkster landing just one punch in a 2m 35s effort.
TWO: McIvor v Kulcsar and Brown
After copping serious beltings from soccer hard man George Kulcsar and Clint "Downtown Taupo" Brown in charity bouts, Sky league man Stephen McIvor would be near the top of many folks' "people I'd most like to pick on me in the pub" lists. McIvor won a few plaudits for the gutsy way he took his beating from Kulcsar, not so many for the sub 60-second hammering from Brown.
At one stage, McIvor was rumoured to be considering a third bout - against an interior decorator. Presumably an elderly flower arranger was next on his hit list.
Brown didn't go so well in his next outing, with the former TV3 sports presenter KO'd in an unsanctioned bout after a big night out in Taupo. While McIvor still fights on, figuratively speaking, at Sky, Brown's prize post-Taupo was being able to add the word "former" to his job title. He's since returned to TV.
THREE: Butterbean v anyone not suffering major physical, mental or visual impairment
Eric Scott Esch's record stands at 95 wins with 65 knockouts, 19 losses and 5 draws. Add all those numbers together and you still don't get his waist measurement.
Take away all the opponents who couldn't be described as proper boxers and his record is pretty close to Stephen McIvor's.
A poster child for those who consider morbid obesity to be a positive lifestyle choice, the bald, Stars and Stripes-clad Beaner was an all-American hero.
Some even considered him a proper boxer. That was before he lost to a 52-year-old Larry Holmes in one of his only proper fights.
Putting the big man's career in perspective, Mark Potter ("who?" you may well ask) knocked Butterbean out in just one round at a nightclub in Blackpool in 2008.
The fight is not considered official as Potter didn't even have a boxing licence.
FOUR: Tua v Cameron
Well, it has to be here somewhere doesn't it.
Optimistically (and effectively it must be said) promoted as the Fight of the Century, David Tua v Shane Cameron turned out to be the dreadful mismatch many feared.
Cameron, who had done well enough at the lower levels of the heavyweight division, was convinced Tua had slid far enough from the days when he regularly mixed it with the very best to be vulnerable. In fairness, he probably had. But Cameron's needling got under Tua's skin, causing him to shed much of the body fat that had inhabited it.
Tua turned up fighting fit and angry. Cameron didn't have the skills to keep him at bay and the result was a first-round knockdown followed by a brutal coup de grace in the opening seconds of the second.
FIVE: Tyson v Pete McNeeley
Hurricane Pete McNeeley promised to wrap Mike Tyson in a "cocoon of horror" when the pair met for Tyson's first fight after a four-year prison stretch for rape.
McNeeley lasted just over two minutes before his manager Vinnie Vecchione threw in the towel. Vecchione later explained that McNeeley was a talented kid with a huge future, so there was no point letting him get hurt.
That talent later saw McNeeley KO'd in one round by Butterbean. His big future included arrests for punching someone he alleged stole his wallet and driving a getaway car in a drugstore robbery.
SIX: Tyson v Seldon
If ever proof were needed that people were scared - really, really scared - of Mike Tyson, this is it. Bruce Seldon was a world champ who had been in with many of the era's better fighters and performed well enough. But when it came time to face up to Iron Mike, Seldon simply thought better of it and took a seat until he was counted out.
To this day the fight is still used a bellwether for grading pathetic efforts. ESPN boxing writer Dan Rafel, for example, described the Briggs-Green fight as "the worst tank job I've seen since Bruce Seldon laid down against Mike Tyson without getting hit by a legitimate punch in 1996 ... It was absolutely pathetic." The Tyson myth was on its last legs, however. His next opponent would be Evander Holyfield.
SEVEN: Tyson v Lewis's children
"I'm the best ever. I'm the most brutal and vicious, the most ruthless champion there has ever been. No one can stop me. Lennox is a conqueror? No! I'm Alexander! He's no Alexander! I'm the best ever. There's never been anyone as ruthless as me. I'm Sonny Liston. I'm Jack Dempsey. There's no one like me. I'm from their cloth. There is no one who can match me. My style is impetuous, my defence is impregnable, and I'm just ferocious. I want his heart! I want to eat his children! Praise be to Allah!"
That was Mad Mike's response to a question about Lennox Lewis shortly after knocking out Lou Savarese in 2000. Just the one problem - Lewis had no children. But he does now, having produced two daughters and a son with his former Miss Jamaica runner-up wife. No word as to whether Tyson would still like to eat their livers with some fava beans and a nice chianti.
EIGHT: Danny Green v Paul Briggs
When he's not bagging other people's opponents, Danny Green likes to bag his own.
"No one's as pissed off as me," Green told a baying mob after the previously robust Briggs was toppled by a jab that barely glanced his skull last year. Green's indignation included stating that Briggs would not be paid a cent of his $200,000 fee, but stopped short of offering the audience and pay-per-view customers their money back.
Allegations of a fix quickly spread. Turned out Briggs was both physically and mentally unwell at the time of the fight. He was suffering depression, had a head injury (he'd been KO'd twice in training) and was in tears in his dressing room before the fight. "If I was told all the things that are now coming out, there was no chance I would have fought Paul Briggs," Green said. "But as far as we knew, Paul Briggs was coming to take my head off."
NINE: Jimmy Thunder v Crawford Grimsley
There's plenty of debate as to what constitutes the quickest knockout. Contests have been called off quicker than the 14 seconds it took for Grimsley to be counted out after being felled by Jimmy Thunder. But Thunder's punch landed after 1.4 seconds, with Grimsley unconscious nano seconds later.
So Thunder - aka New Zealand Commonwealth Games gold medallist James Peau - still gets my vote. Thunder once decided to fight in bare feet because his boots were uncomfortable, which didn't go so well when the hot canvas blistered his feet. Never quite a contender despite notable wins, he lost his last three fights and retired with a 35-14 record in 2006. Life since has not been kind, with reports claiming he has spent time living rough on the streets of Las Vegas.
TEN: McCall v life
One of sport's most successful crack heads, the Atomic Bull has been in and out of rehab - and eventually prison - most of his adult life. Despite his day-to-day struggles, the father of seven somehow managed to knock out Lennox Lewis in 1994 to claim the heavyweight championship of the world. Oliver McCall wasn't even good enough to defend it against, ahem, Frank Bruno, but the rematch with Lewis was going to come sooner or later.
Cue 1997 and one of the most bizarre fights in history, with McCall breaking down in tears in the third and fourth rounds and then refusing to defend himself in the fifth. He later claimed it was a classic "rope-a-dope". The dope bit, at least, was true, with McCall spending his days before the fight in rehab instead of training. Don King was heavily criticised for letting a fighter who wasn't even in a fit state to attend a pre-fight news conference step in the ring. "They're trying to emasculate me, which I think is discourteous," King said.