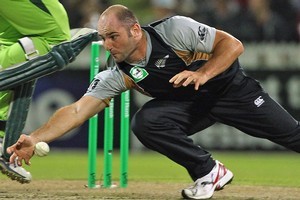 Uncapped left-arm tweaker Luke Woodcock's outstanding domestic form has seen him included as one of three specialist spinners in a 15-strong New Zealand cricket team today named for the one-day World Cup in India, Sri Lanka and Bangladesh starting next month.
Woodcock, who played a Twenty20 international against Pakistan last month but is uncapped at one-day level, joins fellow slow bowlers captain Daniel Vettori and Otago offspinner Nathan McCullum in what are expected to be spin-friendly conditions.
Woodcock has timed his run perfectly with three and four wicket-hauls in his past two one-day games for Wellington, as well as a half century.
The squad also features recalls for young speedster Hamish Bennett, who suffered a groin strain on test debut against India in Ahmedabad last November but has returned to the domestic scene for Canterbury, and veteran allrounder Jacob Oram, 32, who underwent knee surgery in September but has also returned domestically and will get a chance to add to his 141 one-day internationals.
Only one specialist wicketkeeper - Brendon McCullum - has been named, with Jesse Ryder and Jamie How thought to be the likely backups.
Auckland pace bowler Daryl Tuffey is a notable exclusion, as are left arm quick Andy McKay, allrounder Grant Elliott and wicketkeeper Peter McGlashan.
New Zealand have largely kept faith with the bulk of the team which has lost 11 consecutive one-day internationals.
"The squad has an experienced core with James Franklin, Brendon McCullum, Jacob Oram, Scott Styris, Ross Taylor and Daniel Vettori all taking part in the 2007 World Cup," selectors' chairman Mark Greatbatch said.
"It's great to see the bowling attack bolstered by the return of Jacob Oram and Hamish Bennett who have both been sidelined with injury.
"Jacob has been a key performer for the Black Caps over a number of years and his experience will be invaluable at the World Cup.
"Hamish made a good start to his one-day career and deserves the opportunity now that he is fully fit.
"Luke Woodcock has worked hard for his chance after forging an impressive record with Wellington over a number of years.
"He has a good head on his shoulders and his selection provides the option of playing three spinners which could be useful in the sub-continent.
"We have kept faith with the bulk of the team which played the five-match ODI series in India and believe that, despite recent one-day form, the squad is very capable and owe it to themselves and the New Zealand fans to put in a huge performance at the World Cup."
A 12-man squad will be named for the first two matches of one-day series against Pakistan and the squad members not selected will play in the domestic one-day competition.
The squad is:
Daniel Vettori (c), Hamish Bennett, James Franklin, Martin Guptill
Jamie How, Brendon McCullum, Nathan McCullum, Kyle Mills, Jacob Oram, Jesse Ryder, Tim Southee, Scott Styris, Ross Taylor, Kane Williamson, Luke Woodcock.
- NZPA