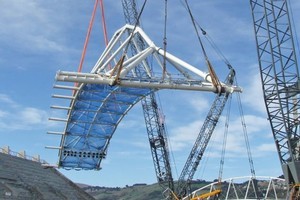 Part of the roof structure is put in place at the new Forsyth Barr Stadium last August. Photo / Supplied
Dunedin will have its state of the art, 30,000 capacity multi-purpose stadium complete and ready to go by August.
The Forsyth Barr Stadium is nearing physical completion, with the grass ready to be sowed later this month and the construction set to be complete in May.
Chairman of Carisbrook Stadium Trust Malcolm Farry says there's no need for panic.
He says a lot of people have been concerned about whether they would meet the schedule but they definitely will.
Farry's calling the entire complex a major centre for sport in New Zealand.
- NEWSTALK ZB