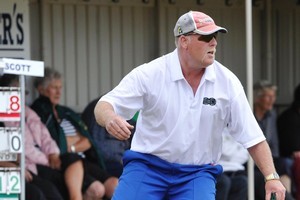 Terry Scott has swapped a seat in the commentary box for the skip's spot in the middle of the green for today's national bowls final in Dunedin.
Scott is skip of the North East Valley family team that outclassed Tom Closey (Wakefield, Nelson) 24-11 in the semifinal of the New Zealand open championships. He was contracted by Radio Sport to share the commentary of the fours final with experienced broadcaster Ron Snowdon. He has been a regular contributor at major bowls events and was television commentator at the 2006 Commonwealth Games in Melbourne and World Bowls at Christchurch in 2008.
"I enjoy being in the commentary team but I'd much rather be on the green," Terry, a New Zealand bowls selector, said. A veteran bowler, Scott last won a New Zealand open championship fours title in 1977 in a team skipped by the Bowls New Zealand chief executive Kerry Clark. He is joined by brother Jim who won the title in 1980, brother-in-law Stephen O'Driscoll and cousin Shaun Scott. They finished runners-up in 2008.
O'Driscoll, a Dunedin judge, could be the first member of the bench to win a New Zealand open bowls title.
Shaun Scott, a Cromwell fencing contractor, is chasing a double title after winning the singles on Tuesday.
He wants to make the Black Jacks for next year's World Bowls in Adelaide.
"I'm still on a high after the singles," Shaun said. "It has helped my confidence."
One of Shaun's best shots came in the second round of post-section when he drove the jack into the ditch for three shots against pre-event favourite Gary Lawson. It was the turning point in the game that North East Valley won 21-13 and deprived Lawson of the chance to win a record 11th title. Lawson and Nick Unkovich hold 10 titles each.
Shaun is keen to take the Black Jacks singles spot off the incumbent, Sydney-based, Ali Forsyth (Taren Point), who won the other semifinal 15-12 against Alistair Keith (Taieri).
Forsyth, the winner of back-to-back singles titles in 2003 and 2004 wants to cement a skip's place in the Black Jacks.
"There is a spot for anyone ready to step up," Forsyth said. "I think I've done that over the past 10 days."
It will be Forsyth's second final of the championships. He was skip of the runner-up team in the pairs.
The other members of Forsyth's team are Matthew Gallop, Graham Hood and Lloyd Gallop.
In the women's semifinals Sue Burnand (Frankton Railway) beat defending champions Barbara McGregor (United, Nelson) 19-13 and 2007 champions Bev Morel (Elmwood, Christchurch) beat Pat Shanks (Waihopai) 16-10.