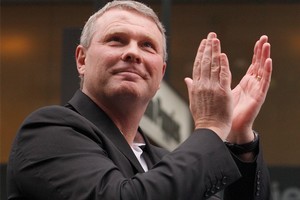 All Whites and Wellington Phoenix coach Ricki Herbert has been voted as one of the top 10 managers in the world by a soccer magazine.
World Soccer announced their annual award winners in the magazine's latest edition which saw Spanish and Barcelona midfielder Xavi named player of the year, beating out club teammate Lionel Messi for the award.
Herbert, who coached the All Whites to an impressive three draws at the World Cup in South Africa, was voted by readers as the ninth best manager in world soccer ahead of Chelsea boss Carlo Ancelotti.
Real Madrid manager Jose Mourinho was named manager of the year, beating out Spain's Vicente Del Bosque and Uruguay's Oscar Tabarez.
World Cup winners Spain were named team of the year, ahead of European club champions Inter Milan, while Germany's Thomas Muller won the young player of the year award.
Votes were cast by World Soccer readers from across more than 40 countries.
World Player of the Year
1 Xavi (Barcelona & Spain)
2 Lionel Messi (Barcelona & Argentina)
3 Wesley Sneijder (Internazionale & Holland)
4 Diego Forlan (Atletico Madrid & Uruguay)
5 Andres Iniesta (Barcelona & Spain)
6 Diego Milito (Internazionale & Argentina)
7 David Villa (Valencia/Barcelona & Spain)
8 Iker Casillas (Real Madrid & Spain)
9 Samuel Eto'o (Internazionale & Cameroon
10 Arjen Robben (Bayern Munich & Holland)
Manager of the Year
1 Jose Mourinho (Internazionale/Real Madrid)
2 Vicente Del Bosque (Spain)
3 Oscar Tabarez (Uruguay)
4 Joachim Low (Germany)
5 Pep Guardiola (Barcelona)
6 Harry Redknapp (Tottenham Hotspur)
7 Bert Van Marwijk (Holland)
8 Louis Van Gaal (Bayern Munich)
9 Ricki Herbert (New Zealand)
10 Carlo Ancelotti (Chelsea)
Team of the Year
1 Spain
2 Internazionale
3 Barcelona
4 Uruguay
5 Germany
6 Holland
7 Atletico Madrid
8 Ghana
9 Bayern Munich
10 Santos
Young Player of the Year
1 Thomas Muller (Bayern Munich & Germany)
2 Mesut Ozil (Werder Bremen/Real Madrid & Germany)
3 Gareth Bale (Tottenham Hotspur & Wales)
4 Javier Hernandez (Guadalajara/Man United & Mexico)
5 Neymar (Santos & Brazil)
6 Pedro (Barcelona & Spain)
7 Coutinho (Vasco da Gama/Internazionale & Brazil)
8 Sergio Asenjo (Atletico Madrid & Spain)
9 Jozy Altidore (Villarreal & USA)
10 Xherdan Shaqiri (Basle & Switzerland)
- Herald online