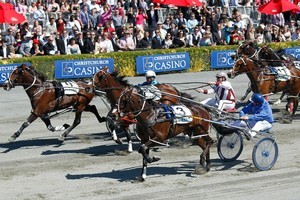 When Steven Reid's career reached an impasse last season he put his money where his mouth is.
Yesterday at Addington his faith was repaid when Gold Ace stunned punters by sitting three-wide for the last lap to win the $180,000 Sires' Stakes Final.
Reid parted company with training partner Graeme Rogerson at the end of last season and ventured back out on his own, with few owners behind him.
So much so when he wanted to retain the unheralded two-year-old Gold Ace he had to put his own money where his mouth is to buy a major share in Gold Ace himself.
"I spoke to Wendy [his wife] at the time and she backed me 100 per cent so we put our own money into this horse and to do that and come out on top makes this my most special moment in racing," said Reid. "It was a huge gamble but you have to believe in yourself and your eye for a horse."
Gold Ace was one of the few horses to transfer from the partnership to Reid alone and he has now emerged as the big mover in the three-year-old ranks.
He won brilliantly twice before overcoming starting from the outside of the front line yesterday, his performance barely believable considering favourite Hands Christian led and had a relatively easy time.
"Where he was at the 800m I thought we needed a miracle but it was a great drive from Fergy [Peter Ferguson] because he didn't panic and gave him the chance to be a good horse.
"But to win like that, that feels amazing."
With last year's two-year-old crop lacking a real superstar, Gold Ace has developed into a top three-year-old at the right time in the right crop.
After yesterday's performance he must rate as the early favourite for the vast array of three-year-old riches headed by the Derbys. That would continue a remarkable transition back to training under his own name for Reid.
Not only has be produced Gold Ace and fellow classy three-year-old Charge Forward but his strike rate with lesser equines this season has been outstanding.
While Gold Ace was sensational winning punters who backed second favourite Empyrean are entitled to feel peeved as he was cruising on the winner's back at the 400m mark before rolling in a gallop, suggesting he would have gone close to winning.
Ima Gold Digger announced his arrival on the elite open class trotting stage with a national record win in the Free-For-All.
The former age group star claimed his first major open class scalp at Ashburton at his previous start but some of his rivals had an excuse on that occasion. But yesterday he was simply brilliant, overcoming a second line draw to power away from many of our best trotters in a blistering 3:13.3 for the 2600m, clipped 0.9 of a second off Romper Stomper's national mark.
It started a group one winning double for northern trainers, with Michelle Wallis resurrecting the five-year-old's career.
"He has gone to that next level and Michelle and Bernie have done a great job with him," said driver Todd Mitchell.
The win, coupled with the failures of One Over Kenny and Raydon, suggest Ima Gold Digger is a serious winning chance in Friday's $200,000 Dominion Handicap.
Absent yesterday but joining that Friday field will be class stayers Dr Hook, Springbank Richard and Sovereignty.
NORTHERN GOLD
*Gold Ace wins the Sires' Stakes Final at Addington.
*Ima Gold Digger captures the group one Trotting Free-For-All.
*Trainer Steven Reid rates Gold Ace's win the highlight of his career.
*It continues a superb return to training under his own name for Reid, whose strike rate this season is wonderful.