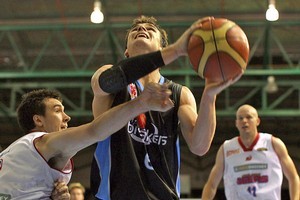 Kirk Penney is back in Auckland after a failed bid to make the National Basketball Association (NBA) in the United States but will not play in the New Zealand Breakers' match against Melbourne on Thursday.
The Tall Blacks shooting guard missed the Breakers' opening two matches of the new Australian National Basketball League (ANBL) season after rushing to the US to accept an invitation from the San Antonio Spurs to attend a training camp.
He spent a brief time with them before being waived by the Spurs but remained in the US to pursue other NBA options.
Nothing materialised and he arrived in Auckland today to rejoin the Breakers.
However, Breakers general manager said Penney would not play in their home match against Melbourne on Thursday.
He said it was a team decision and Penney did not have sufficient time to prepare properly for the match.
It seems his opening ANBL appearance of the season will be the away fixture against Gold Coast on November 6.
The Breakers have made an encouraging start to the new campaign by winning their opening matches against Sydney and Perth.
- NZPA