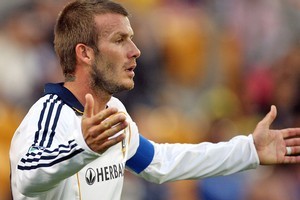 David Beckham and the Los Angeles Galaxy are heading back Down Under to play A-League side the Newcastle Jets.
The two teams will play an international friendly in Newcastle on Nov. 27 at EnergyAustralia Stadium.
The Jets currently sit in 10th place in the A-League with just one win this season.
It will be the Galaxy's third trip Down Under in the last four years, having played once in Australia and twice in New Zealand.
Minister for the Hunter Jodi McKay says the match will being economic and general exposure benefits to the Hunter region.
"This is fantastic news for football fans and for tourism in the Hunter. The phenomenal global interest in David Beckham, World Cup hero Landon Donovan and the LA Galaxy team means Newcastle and the Jets will be in the spotlight for sports enthusiasts from around the world," said Minister McKay.
The Galaxy last played in Auckland in 2008 against the Oceania All Stars, a match that cost the Auckland Regional Council $1.88m.
-Herald online/AP