The Lake Taupo Cycle Challenge is a mammoth event. Phil Taylor shares his experience.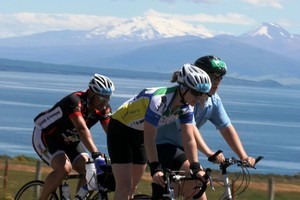 Don't crash, don't bonk, don't panic. That, in a nutshell, is the recipe for a successful debut in the big one, the solo 160km circumnavigation of Lake Taupo.
If you tick all three boxes you will have a good day because those things are the most likely to cost you big chunks of time or cause you not to finish at all. In saying that, I assume you will have reached a level of fitness by November 27 that makes completing the 100-mile ride realistic. You won't be alone - more than 10,500 riders are expected to compete in the challenge's 12 events this year.
The more riding you do in preparation the better but hey, we can't all be like Forrest Gump. With the ride six weeks away you hopefully have a routine of two good rides at the weekend and two short ones during the week. If so, pat yourself on the back because four rides a week is good for people with busy lives. Ideally, one of the weekend rides will be 2 to 2.5 hours and the other an endurance ride of 3 or 4 hours.
On those longer rides pay attention to developing a reasonably high smooth cadence.
One of the biggest mistakes beginners make is riding at a slow cadence in a big gear. Good cyclists have an efficient pedal stroke and the ability to pedal quickly.
Power can easily be built. Remember, plenty of powerful big gear sloggers get dropped when the speed suddenly increases because they can't turn their legs quickly enough to react. Developing this takes time (kids are helped by racing on restricted gears).
Work on it on your long ride by riding in a small gear with a cadence as high as you are able to pedal comfortably. This is not lung-busting work but about teaching your legs to spin.
If you are unsure about your position on the bike, get an expert to check you, as poor set-up will rob you of efficiency. Most bike shops will do this for you for a small fee.
Right, race day.
Don't crash
Let's be honest, it's a dangerous race, mainly because there are a lot of inexperienced riders. But there are a few things you can do to help yourself keep safe.
First, place yourself on the start grid with those who have estimated a similar time. (There will be signs in the starting pen with times written on them). Struggling to hold a pace that is too fast for you, or slow riders getting in your way increases the risk of crashes.
As far as crashes go, the golden rule is: Look after your front wheel. Your back wheel will take care of itself because it has your weight on it providing stability. There's virtually no weight on your front wheel and if you clip another rider with it then most times it's you who is going down!
To look after your front wheel you need to be alert to what's happening up ahead. Sounds obvious but most crashes in big bunches occur because someone looked over their shoulder and turned back to discover the rider immediately ahead had slowed or swerved.
Particularly in the early part of the Taupo race the bunches are huge. Someone touching their brake up ahead or swerving has an exaggerated concertina effect back through the bunch.
In a packed bunch you should look several riders ahead rather than down at the back wheel of the rider immediately in front of you. Your instinct will tell you where the wheel of the rider ahead is.
Try to do some of your training rides in groups to develop bunch craft. You learn, for example, to counter the tendency for your bike to drop back 20cm when you stand on the pedals, which is important when the rider behind will be that close. (Shops such as Mt Eden Cycles and Cyco in Ponsonby organise bunch rides and will help with these skills).
Don't bonk
It's a long way. Make sure you have enough food and drink. On the flat straight roads just before Turangi is a good place to have a helper stationed with water and food. You'll need four to six bidons and something like two bananas, two energy bars and a couple of energy squeezies. Use your long rides to learn what fuel suits you best.
The key is to eat soon and regularly to ensure a constant supply of energy. Don't wait until you feel hungry because that's too late and you will likely suffer low glycogen and blood sugar, an energy hole cyclists call "bonking". That can cost you time as you creep along while your body converts fat to energy or processes the food you have belatedly gobbled down.
Don't panic
It's a beautiful ride and you will get there. It is amazing how the body keeps going so long as you fuel it.
For the least stress when riding in a pack, seek out a smooth rider (someone who doesn't change pace suddenly and who looks comfortable) and follow his or her wheel.
If you are in a big bunch approaching Kuratau hill (90km) and are worried about being dropped on the climb, try this trick that has worked for me: work your way through the group to start the climb near the front. That way if you fade you may still be close enough to the back of the group at the summit to grovel back on.
Want to know more about training and nutrition?
Click here.
Phil Taylor is a Herald Feature writer and a former provincial rep cyclist.