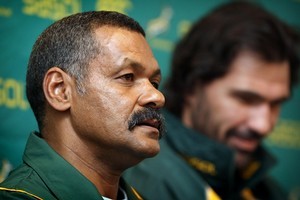 It was interesting to hear Graham Henry say the other day the team he thought would be the All Blacks' biggest competition for the Rugby World Cup was Australia.
I have been saying that for some time and what's going on in South African rugby is at least part of the reason the Boks are not rated as highly right now.
I was over in South Africa recently, at a Murray Mexted IRANZ coaching stint, and who should turn up one day but Springbok coach Peter de Villiers. Well, all I can say is ... what an odd little man.
He just rubs people up the wrong way in a short space of time and, after he'd gone, one of the South African coaches there said to me in a thick Bok accent: "You see, Richard, what we have to put up with?"
De Villiers has held on to his job after the recent review - but it was a bit of a circus.
Politically, it appears he tried to blame Dick Muir and Gary Gold, his assistants, to save his own job.
It came out in the South African media that he had tried to interest at least four other people in the job - Western Province coach Allister Coetzee, Bulls coach Frans Ludeke, former Bulls coach Heyneke Meyer and even former All Black coach (now with the Lions) John Mitchell.
All turned him down, apparently. However, the news that de Villiers had been approaching others got out - and made the SARU and de Villiers look a bit sick.
They followed that up by announcing the coaching team had been retained in full - but that was pretty transparent to most people.
Also breaking in the media over there was the story that Absa - the big company which sponsors the Currie Cup and the Boks - was putting the pressure on the SARU to press further ahead with transformation.
That's the cute word invented to say that black or coloured players get into teams ahead of white players, even though they might not have the ability yet.
You can see why the South Africans want to do this long-term - but just ahead of a World Cup is not the time to be making political selections, based on race.
I have worked with a lot of South African academy players to whom this has happened and they all say they wouldn't be worried if the black or coloured players chosen over them were better than they were.
You add all this up and it amounts to big trouble for the Boks. We all know the senior players are running the team - but if that team is going to be heavily populated with players not chosen strictly on merit, anyone would struggle with that assignment.
De Villiers originally intended to take a second-string Bok side to Europe for their end of year tour which starts next month, to rest his senior players ahead of RWC 2011. But now he is starting to make noises that he might take his stars - or most of them.
I spoke to Dick Muir a few weeks ago and he told me they badly needed to rest their senior players to get them right for next year. You see, Muir is thinking of the future.
For de Villiers, a man under pressure, the future is his next game.
Meanwhile, in Australia, Robbie Deans has been building depth, talent and experience - and attitude.
I believe that if he can get his front five right, the Wallabies will be a real problem come World Cup time.
They are already the closest to the All Blacks at present in terms of style, skill and approach.