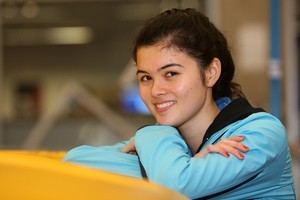 It is high jumper Liz Lamb's first Commonwealth Games but she might be able to teach her teammates about adjusting to life in Delhi.
The 19-year-old represented New Zealand at the youth Commonwealth Games in Pune in 2008 so is used to the conditions, logistics and strategies required to deal with Indian culture shock.
"This event is obviously on a larger scale but it is something that is not a complete jolt to the system. However, I'm sure my teammates should be self-sufficient enough to deal with it."
The team has limited any potential damage in the build-up by delaying an arrival into Delhi until now. They have been training in the humidity of Hong Kong as an alternative.
Lamb says the last minute development of the Games village came as nothing new.
"We had similar issues with the health and safety of the apartments in Pune. Obviously they didn't have the same impact through the media because it was just a little youth Games.
"We got there and it was still getting built but a couple of days in it came right. In Delhi we came in last night and it was totally satisfactory."
Lamb leapt a personal best height of 1.85 metres to qualify for the Games. That would have earned her a medal last time. New Zealander Angela McKee took bronze in Melbourne jumping 1.83m.
Lamb is expecting stiffer competition here when she enters qualifying, early on Saturday morning.
"I'm expecting the medal height to be around 1.86m to 1.88m.
"It is such a mental sport, especially at a major championship. The more experience you can get overseas the better. I'll get to my mark, visualise my run-up and then channel my body to do it. The last couple of steps have to be pretty fast, translating speed into height. My routine involves an arc of nine steps from the right so I'm ready for a left foot take-off."
Lamb will peak in Delhi but had intended to do so for the world junior championships in Canada in July. However, she injured her knee and had to rest more in the lead-up.