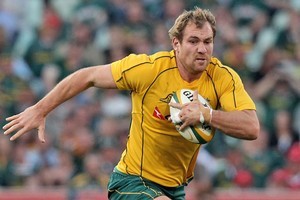 Wallabies skipper Rocky Elsom has vowed to take New Zealand to the wire in a Bledisloe Cup thriller in Hong Kong in a bid to end their 10-test losing streak against the All Blacks.
The flanker said his players, ranked No.2 in the world behind their trans-Tasman rivals, need no prodding to be up for the glamour tie next month, despite having already handed the cup to New Zealand with three defeats in the four-test series.
"There's no more motivation or reason required other than the fact that we are playing them," said Elsom, who has played 59 times for his country.
"They have a pretty heavy winning streak against us. And just in general, because of the number of tests they've won in a row, they have their run to play for and for us ... we don't need an extra reason to want to beat them."
New Zealand go into the tie as Tri-Nations champions and, after a last-gasp 23-22 victory by the All Blacks in Sydney earlier this month, both teams come to Hong Kong finalising preparations for tours of the northern hemisphere.
Elson, who has been a Wallabies regular since his try-scoring debut in 2005 against Samoa, said fans could expect a fast-flowing spectacle of rugby in the 40,000-capacity Hong Kong Stadium on October 30.
"I think we've seen the game opening up more and if there's any two teams you want to see open us it would be us and New Zealand - and that's what we plan to do," he said, speaking to reporters in Hong Kong via a telephone link-up from Australia.
With the series outcome already a fait accompli there were suggestions earlier this month that the match could be moved to London's Twickenham stadium, amid sluggish ticket sales.
Wallabies spokesman Matt McIlraith said: "Although the Bledisloe Cup can't be won it's certainly not a dead rubber in the eyes of our guys. And I'm pretty sure, knowing a lot of the All Black blokes personally, it's the same for them.
"There's not many games now before the World Cup and for us, every chance to have a crack at the All Blacks is critical."
Elsom, voted by the public as the Wallabies' outstanding player in 2008, admitted his side had much work to do if they were going to be able to compete with New Zealand for the 2011 World Cup which the All Blacks play on home soil.
"Set pieces can be crucial to teams in the tournament so there's still a lot of work we need to do and I'm expecting us to make further gains," he said.
"I'm reasonably happy with the gains we've made but you can take nothing for granted."
The Wallabies Sevens side are part of the Australian squad due to head to New Delhi's crisis-hit Commonwealth Games next month, with preparations marred with several top athletes snubbing the event after a tourist shooting and bridge collapse ramped up safety fears.
But McIlraith said he was unaware of any plans by the rugby players to pull out.
- NEWSTALK ZB