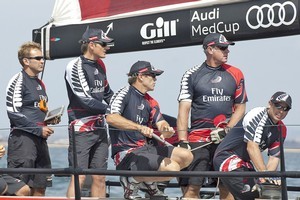 Defending champions Team New Zealand were back in a familiar position today after the opening day of the season-ending event in the Med Cup yachting series.
After a slow start with an eighth placing, Team NZ sailed to the front of the 10-strong fleet of TP52s that assembled off the Italian island of Sardinia with a second placing then a win in a windy final race.
Their margin over the rest of the field was slim one.
They are equal on points with French-German entry All4One, with countback edging them in front, while just four points separate the top five boats with four days of competition to go.
But in the race for overall honours in the five-regatta series, skipper Dean Barker and his crew extended their already imposing advantage to 54.5 points over closest pursuers Quantum Racing of the United States.
Barker said conditions had made for some tough racing at Cagliari.
"The race course has been pretty tough all day really - shifty, puffy, big changes," he said.
"When you thought you might have been good, maybe it wasn't, so it was hard work."
In race one, which Spain's Bribon won after a good start, Team NZ were in the top three going into the first mark, but had to pull out of their port tack approach and dropped back.
In race two, All4One got the early jump and held on to finish in front of NZL380.
The day's final race was again a case of the boat making the best start going on to grab victory, although Team NZ had to work hard as the late afternoon breezes built from six knots to over 20 knot, and also swung hard left.
Barker said what happened at the top mark in race one was just one of those things.
"It's just the way it is sometimes, you miss and opportunity and you can't recover," he said.
"But it was nice to bounce back with a second and first and get ourselves back in contention".
- NZPA