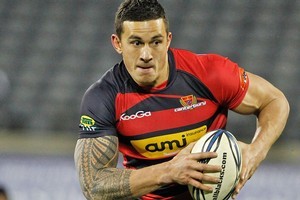 Canterbury and Southland sit on top of the ITM Cup standings after seven weeks of competition, both recording wins in the latest round.
The Stags held on for the Ranfurly Shield for another week after a weak challenge by North Harbour while Sonny Bill Williams made a strong starting debut for the Cantabs in their close win over Northland.
Taranaki kept in touch with the leaders after beating Counties yesterday while Auckland were too strong for Wellington on Saturday night.
At the other end of the table, Otago moved off the bottom after recording their second straight win after beating Tasman on Sunday afternoon.
RECAPS
Yesterday:
Counties in like lions, out like lambs
Saturday:
SBW steps up in Canterbury win
Friday:
Southland run down North Habour
Thursday:
Standings after six rounds:
| | | | | | |
| --- | --- | --- | --- | --- | --- |
|   | P | W | D | L | Pt |
| Canterbury | 7 | 5 | 1 | 1 | 26 |
| Southland | 7 | 6 | 0 | 1 | 26 |
| Taranaki | 7 | 5 | 0 | 2 | 22 |
| Auckland | 7 | 5 | 0 | 2 | 22 |
| Waikato | 7 | 4 | 1 | 2 | 21 |
| Wellington | 7 | 4 | 0 | 3 | 21 |
| Counties Manukau | 7 | 4 | 0 | 3 | 19 |
| Northland | 7 | 3 | 0 | 4 | 17 |
| Bay of Plenty | 7 | 3 | 0 | 4 | 17 |
| Hawke's Bay | 7 | 1 | 2 | 4 | 10 |
| Tasman | 7 | 2 | 0 | 5 | 10 |
| Otago | 7 | 2 | 0 | 5 | 9 |
| North Harbour | 7 | 2 | 0 | 5 | 9 |
| Manawatu | 7 | 1 | 0 | 6 | 7 |
- NZHERALD ONLINE