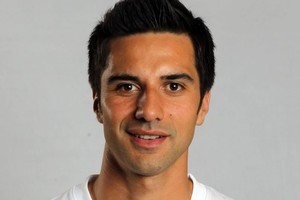 All White Rory Fallon's availability for New Zealand's October soccer internationals against Honduras and Paraguay is doubtful after the striker had a hernia operation at the weekend.
Fallon, who plays for Plymouth Argyle in the English third-tier competition, has been carrying a groin injury since the World Cup.
Plymouth manager Peter Reid was unsure exactly how long the recovery would take but told the Plymouth-based Herald newspaper he expected Fallon, who has missed Plymouth's last two matches because of the injury, to be out for "about a month".
New Zealand play Honduras in Auckland on October 9 and Paraguay in Wellington on October 12.
Even if Fallon was fit in time to make the trip to New Zealand, it is unlikely Plymouth would want him to travel so soon after his injury.
There had been much speculation about the 28-year-old's short-term future in England but it appears the injury ended any prospect of him leaving Plymouth before the transfer deadline closed last week.
Fallon played in all three of the All Whites' matches at the World Cup in June and scored the winning goal as New Zealand beat Bahrain 1-0 in Wellington last November to qualify.
Meanwhile, All Whites captain Ryan Nelsen has confirmed his availability for both matches.
Nelsen, who captains English Premier League team Blackburn Rovers, had previously indicated his desire to play, but yesterday confirmed he would make the trip home.
"I'm going to come back and play," Nelsen told Radio Live. "I have always wanted to come back. You've just got to play a bit of a political game with the club, but that's sorted and it's all good."
Nelsen hoped fellow All Whites centreback Winston Reid would also return for the matches, but said Reid should stay with English Premier League club West Ham United if he felt that would be better for his career.
"Everyone wants him to come back but we should support him if he wants to stay," he said.