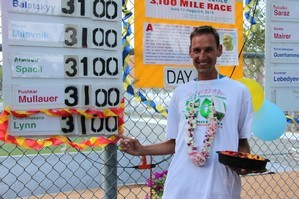 The following comes with a health warning.
Simply reading about this running event could induce severe pain.
Hamilton-born Dharbhasana Lynn, a 34-year-old from One Tree Hill, is recovering in New York after completing the annual Sri Chinmoy Self-Transcendence 3100-Mile Race (about 5000km).
This race falls into the ultra category, although ultra is hardly a strong enough word for an athletic adventure that sounds like torture.
The competitors raced round and round the same road circuit - which is just under 1km long - in the famous suburb of Queens.
To record an official finishing time, runners must complete 5649 laps in 52 days. This involves running more than two marathons a day, from 6am to midnight, for about seven weeks.
Most of us would rather catch a few shows and trundle around the restaurants in New York, but each to his or her own.
Understandably, this race struggles to attract overwhelming numbers. There were just 11 starters and Lynn - who got to the finish line on the final day - was the sixth and final competitor to go the distance.
At one point, with a hamstring injury slowing him to a standstill and the race director suggesting a visit to a doctor might be in order, Lynn struck upon a remedy which involved strapping three golf balls tight on to the injured area.
This allowed him to stagger along for eight days before he chucked the golf balls with 10 days to go and resumed running in a desperate effort to meet the deadline.
This is not running as most of us know it either. Heavy legs are reduced to the "ultra shuffle", where soles virtually scrape along the ground. Lynn, who prepares his feet by training barefoot or in thin "foot gloves", went through 15 pairs of lightweight running shoes in the race.
Lynn answers a few questions about a race most of us would regard as a highway of hell.
The race finished early last week but I presume you still have the feet up?
My initial reaction was to lie down but we went to Canada on a road trip. I'm sleeping and eating as much as I can. I'm completely surprised at how well I've recovered.
How are the feet?
My right foot is still completely numb. That happened midway through the race. It felt like my toes were broken and then there was a numb feeling and then I lost all sensation. Another experienced runner told me not to worry - he lost all sensation in both feet for 10 months. So I figured, don't sweat the small stuff. Move on. The road delivered the injury and the road will take it away.
How reassuring ... how bad did things get during the race?
You reach points where you think you can't go on. After the first day my body was in so much agony I could hardly stand, let alone run. I got tendinitis in both ankles - after four or five days they puffed up like balloons. Sometimes it felt like the bones were breaking. You start doubting yourself. You wake up in the morning thinking, "How on earth can I possibly go out and run?"
My knees and hips were in so much pain for about five nights that I couldn't sleep properly.
Every part of your body is in agony. Some days I could hardly keep my eyes open.
Nothing a few tonic drinks can't fix then?
I'm different to most ultra competitors because I follow a vegan diet. I don't touch supplements or scientific drinks and tablets.My fuels are dairy-free. My wife Nandana was amazing - she was my handler during the race, giving me food every half-mile [0.8km].
You run with the food to a walking spot, quickly eat and then move on again. I eat fresh produce, smoothies, juices. Everything is natural whole foods - no processed foods. I had food such as steamed asparagus or mushrooms, chopped fruit, a lot of Amazonian and Himalayan superfoods such as cacao beans and goji berries. Everyone was doubting me at first - the ultra world thinks fats and carbs, which is like throwing wet logs on the fire. I stay away from sugar, which causes energy spikes where you go up then crash. I proved something because it is quite unusual for a first-time runner to even finish the event.
Music?
At times I listened to music on the iPod - meditative music such as Sri Chinmoy playing the flute in the morning, or chanting, upbeat music, maybe guitars or quite poppy stuff, later in the day. I couldn't handle rock music, which is too much for the mind. Sometimes I would go for a week with no music because I just couldn't fit anything else into my mind. Once you truly realise the longevity of the race, that you must get up and do this again the next day, the next day, the day after that, you can get stressed out real quick.
You've got to keep coming back to the present. You need to find a balance between keeping the mind at peace and also fired up.
You do realise people think you must be mad undertaking an event like that?
Including my friends and family. I had a deeper faith, though. We are much more than we think we are.
I've thought on a big scale since I was a kid - things like kayaking around New Zealand. The attitude I needed in the race is transferable to every area of life. You can always challenge yourself to do the best you possibly can and not think about the what-ifs. There is too much fear around. You can give every particular moment everything you've got and live every day as if it is your last.
What is your running CV?
I've run more than 40 marathons, 15 ultra marathons, two 24-hour races, two six-hour races, a 10-day race, now a 3100-mile race. Once a week I do a 60-100km run in one day, where I leave the house at sunrise and don't come back till sunset running out to Titirangi, Whatipu, along the beach at Karekare, up through the roads and a bigger loop back to Titirangi. I once did a three-day run from Auckland to Tauranga with my friend, who was on a bike with a little trailer behind him.
You've forgotten that shopping trolley business ...
I set the world record for pushing someone for [1.6km] in a shopping trolley around a track. It was some of the worst agony ever.
Do you have time for a job, hobbies?
I've got a screen-printing business and my wife and I own a mobile catering business, in which we take vegetarian and vegan food to festivals. I'm an avid rock climber - my friends and I climb up to three times a week. I love outdoor adventure and anything in the Waitakeres or West Coast beaches. I love jumping off cliffs and waterfalls - you test the depth of the pools first and I wouldn't go over 15m. It's an adrenaline rush - I'm an adrenaline junkie. I used to snowboard and skateboard but that caused too much stress and pain on the legs and stopped me running long distances.
And the 3100-miler - presumably you will go back. Would you like to win it?
I never think about winning - just doing my best. I'd love to go back - hopefully everything will align and I challenge myself to go quicker.