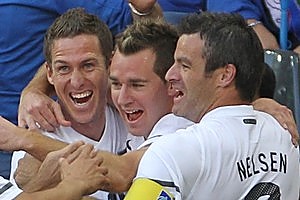 The All Whites have secured a home match in October for what will be their first outing since the World Cup, New Zealand Football said today.
They will face Paraguay, one of their opponents at the tournament in South Africa, on October 12 at a venue to be confirmed.
Coach Ricki Herbert had said on his return last month from the World Cup that it was important for the All Whites to play at home this year to build on what they achieved in South Africa.
New Zealand came away as the only unbeaten team in the 32-nation event, after three draws, including a notable 1-1 result against defending champions and four-time cup winners Italy.
Paraguay were their last pool opponents and the match ended 0-0.
The South Americans qualified for the knockout stages, getting as far as the last eight, where they were beaten by eventual champions Spain.
NZF chief executive Michael Glading said getting the friendly against the World Cup quarterfinalists, now ranked No 16 in the world, so soon after the tournament was "a real coup".
"Bringing a top-20 team has not always been viable in the past but football's stock is rising and this match is a chance to keep that World Cup momentum going and for fans to see all their World Cup heroes back at home again."
- NZPA