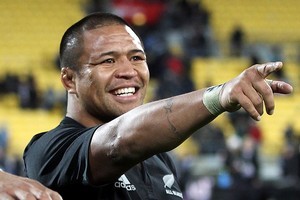 There's a bit of the split personality about Keven Mealamu. A God-fearing Christian and devoted family man; a genuinely humble, nice bloke.
Once he sticks his rugby boots on, he's not so nice. His peers acknowledge Mealamu as a real hard man. He doesn't snort or shout or talk it up; he doesn't stand on heads or throw punches or try to pass himself off as an enforcer.
His work is the stuff of the true tough guy - he pounds into the scrum, tackles with a vengeance, cleans people out and drives with a ferocity when he's got the ball.
Mealamu doesn't shirk and never backs down. His performances this year have been the best of his career and his appetite for destruction has been inspirational. Those around him have lifted their work rate, aggression and intensity to try to be at the same level. He's maybe unsung externally, but within the team, everyone knows what Mealamu gives.
One of the few times the depth of Mealamu's toughness was made obvious to a wider audience was in 2004, during a relentless stoush with Wallaby hooker Brendan Cannon. On a horrid Wellington night the two exchanged blows several times - Mealamu soaking it up a la Muhammad Ali.
"I think they had been complaining that we had been cleaning out too wide of the ruck," recalls Mealamu. "I was standing on the edge on one occasion and I guess he [Cannon] thought I was obstructing him. So he punched me. And I punched him back.
"People ask me about that a lot, but the funny thing is that when we were getting stitched up together and he asked me 'how the family was' and we chatted away."
It was un-Christian of Mealamu to return the punch but as he says: "It's better to give than to receive."
It's a nice line, borrowed from Michael Jones, who was the original Hard Man Evangelist and a significant influence on Mealamu.
Mealamu idolised Jones from afar and his first year in the Auckland team overlapped with Jones' last.
It was there that Mealamu learned the art of being one man on the field and another off it - the art of giving everything.
"I think it is just about being professional," is how Mealamu explains it. "Guys like Brad Thorn are the same. A good Christian man but he plays with a different intensity and I'd like to think I could do the same, especially when I represent my country. I'm representing my people so it's something I'm going to make sure I do well."
A big part of this code is that incidents and their subsequent emotions are left on the field. Bruised and bleeding, Mealamu shrugged off that scrap with Cannon as if it never happened, as he had done since his early teens.
Born and raised in Tokoroa, Mealamu came north with his parents when the local mill restructured. He and his brother Luke enrolled at Aorere College. Big by Tokoroa standards, Mealamu trialled for the First XV at just 14 and he and Luke, who is two years older, made it.
From being a big fish in a small pond, the situation was suddenly reversed and that first year was tough. He took some physical punishment.
"I remember when I first played First XV in Auckland, I had never seen guys that size," says Mealamu. "I had never played against guys with beards. The first school we played against was Manurewa High, it was pre-season and a real eye-opener for me.
"I played a little bit on the openside but most of my rugby was played at halfback that year."
There was no gentle introduction for Mealamu who was smashed about and had to deal with it or lose his place. The presence of his big brother was a comfort and, the two who had scrapped in their younger days, were thrown together in Auckland.
"We didn't know many people at our school when we first moved up so we became best friends," says Mealamu. "He's a guy who looked after me and still does. I'm pretty lucky to have a big brother who always had my back."
Mealamu, despite having achieved in rugby terms at least more than his brother (who represented Samoa), admits still to being in awe of Luke. That's why at the end of last year, the pain the extended Mealamu family felt was heart-breaking.
Luke's 6-year-old daughter Christina was killed in a tragic accident when a scrum machine collapsed at a family touch tournament at Tamaki College. "I suppose a bit of time heals. I know my brother has his days and his moments as well. When you lose a child it's different than when you lose someone who has been through life and experienced a lot of things.
"When it's someone that age, it takes a lot longer to heal.
"We have family time sometimes and my brother and I always think that Christina could have been here with us. It's day by day and we can only hope that time will heal things."
Being part of such a tight family unit has been a factor in keeping Mealamu in New Zealand. He's contracted until the end of next year and, having been part of the 2003 and 2007 All Black World Cup squads, he's desperate for 2011 to have a happier ending.
He'll be 32 by that point and is in the process of opening a Nandos food outlet in Takanini. He's beginning to ready himself for life after football but, having given his all to Auckland, the Blues and the All Blacks, he says he might look at an offshore stint before he calls it quits.
"I have been lucky to have such a good partner," he says. "It's not easy for her with me being away as often as I am. She has always wanted to do a bit of an OE, so if the opportunity came up, then maybe we would go for a year for a bit of life experience."