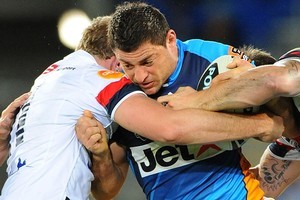 If the Warriors can limit the damage inflicted by the Titans' fringe-running backrowers they'll go a long way towards winning Sunday's hugely important match at Mt Smart.
The sides are so evenly matched, the result will almost certainly come down to a couple of key areas.
The main area where the Titans look to have an advantage is in the yardage games of their superb backrowers, Anthony Laffranchi and Mark Minichiello.
Those guys have run for around 1800m this season.
Compare that to Simon Mannering, who has chalked up just 631m. Mannering plays a much tighter game and does a hell of a lot of work but, even so, the numbers show just how dangerous the Titans' backrowers really are.
In a match that looks too close to call, shutting down Laffranchi and Minichiello and getting into a field-position duel looks to be the Warriors' best bet.
James Maloney's long-kicking game has been superb this year so if the Warriors can match the Titans on the ground they'll have a good chance of coming out on top.
And they'll certainly want to keep the Titans - and Laffranchi in particular - well away from their line. The Titans have a close-range, pet play that has burned the Warriors plenty of times and they'll be sure to bring it out again if they get the chance. Usually hooker Nathan Friend ducks out of dummy half and turns the ball back on the inside for Laffranchi. But the last time these two sides met, in round one, we saw a variation where Friend dummied on the inside and hit an outside runner and the Titans scored in the corner.
Either way, the Warriors can't afford to get suckered again on Sunday.
Cutting down the errors will also be crucial. Jesse Royal, in particular, needs to tidy up that area of his game. Royal's yardage game has been good recently, but he has made 12 errors this season. That's a lot for a prop.
Most props in the competition have made around five or six. Against the Rabbitohs last week Royal dropped the ball on the second tackle and the Bunnies made the Warriors pay with a converted try. Those type of plays really hurt at this time of year.
I wouldn't be surprised if that was why Ivan Cleary has decided to start Ben Matulino at prop this week. Matulino is having a great season and, crucially, he doesn't make many errors.
Home advantage could also be critical. The Warriors - and their fans - need to make it count. We've seen plenty of games this season come down to a refereeing call or two. There's no doubt that those calls tend to go with the home team, so the fans really need to stay on top of Tony Archer on Sunday.
With both teams on 24 points and needing two or three more wins to book a finals spot, there is plenty at stake. The winner could go as high as third or fourth while the loser could drop to ninth or 10th. That's a massive swing.
Last week the Warriors looked down on energy. Given the workload they'd had in recent times that was understandable.
Given the way they played, with a completion rate of around 50 per cent and with their energy levels at about 70 per cent, it was quite amazing that they were in a position to win that game at the end.
That is a real positive. But they can't afford to be that flat against the Titans. At this stage of the season their training is all about being right for match day. The basework was all done long ago.
So the players should all be ready to fire their shots.
With winnable games against the Sharks and Knights to come next, the Warriors have a great chance to show that last week's defeat was just a blip.
* EDITOR'S NOTE: A photo of Anthony Minichiello was inadvertently used with this story originally, instead of his brother Mark Minichiello. We apologise for the error and any confusion it may have caused.