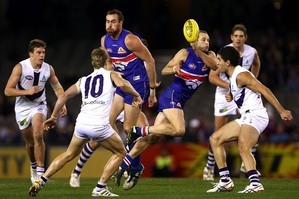 Footy in Melbourne. For most in the magnificent southern city that description means just one thing.
AFL or aerial ping pong as others with less tolerance describe the sport which engulfs the city and the environs.
It dominates the back pages and television footage as soccer does in the UK. Rugby barely rates while rugby league has to have salary cap scandals to get much coverage.
So it was a rare concession when the Age newspaper allowed a few rugby articles to appear in their midweek sports liftout.
Much of the inspection though has been about the AFL ground known as Etihad Stadium, and what impact three successive matches this weekend will have on the unstable surface.
Capacity is a shade over 56,000 but the record attendance is 41,278 a couple of years ago when the Wallabies hosted England.
Officials are banking on a new high for the start of the Bledisloe Cup skirmishes tomorrow as a boost for the Melbourne Rebels who enter the Super 15 next season.
Someone who concurs and hopes rugby gets a strong start in the southern sporting mecca is actor John Clarke, aka Fred Dagg.
He has lived in Melbourne for more than 30 years, kept in contact with the sport and his mates from NZ and is thrilled a relative, Israel Dagg, is making his way into the All Blacks.
"I've been thrilled and delighted to see the way he plays and the agility, skill and speed the whole side is showing," Clarke said.
"If I was writing the annual report for the NZRU I would say we are looking good."
Clarke watches rugby when work permits and was delighted, in the 2003 World Cup, to coat-tail his mate Sam Neil into a corporate box at Etihad.
The pair ran into All Black icon Brian Lochore and Clarke was able to thank him again for the time he allowed Fred Dagg to use his farm for some promotional work way back when.
"I remember his kids, they were little then of course and I'll be very comforted to know they are now 53 or so," he cackled.
"I enjoyed those World Cup games. Now there is a lot of fuss because the sun don't shine on the ground which probably causes a photosynthesis issue with the growth.
"Maybe they should put rent-a-lawn down. I dunno. I just hope no one gets hurt.
"The Storm have been big in town here but then someone spiked their drinks so they could spend more time with their families. Rugby league has not been huge here but I think people will welcome rugby because of its international connotations," Clarke said.
"People here embrace sport, they will pick rugby up fast and go to it."
Coach Rod Macqueen certainly hopes so. He has been spruiking round the city this week, piggybacking some promo for the Rebels off the back of the Bledisloe.
He gets his squad together in October with Danny Cipriani, the English five-eighths, giving the squad the most marketing leverage so far.
Macqueen accepted four Bledisloe Cups a year reduced some of the mystique in the transtasman duels. He felt that was balanced by the benefits for both teams in high-quality competition.
Tomorrow would be a huge spectacle and a boost for the Rebels' drive to capture the city's sporting audience. He was certain rugby could co-exist with AFL.
Clarke was similarly bullish. Melbourne was a city that took an enormous interest in its own teams.
He did too but was always in touch with New Zealand and what was happening there. He loved the recent soccer World Cup and a headline he'd seen in the Herald.
"It said something like 'New Zealand only undefeated side and so winner of the World Cup.' I thought that was great."
When Clarke was a teenager, rugby was a grey game of lineouts, scrums and kicking. Now it was brilliant.
Guys like Christian Cullen brought the joy back into the game.
If there was a repeat tomorrow of tries like Cullen scored when he turned George Gregan inside out on defence, that would be magnificent.
"If I am struggling to drift off to sleep, I just replay that try on my eyelids, it was magic," Clarke said.
"It was like the difference between the piano shifter and Mozart."
"The All Blacks are playing marvellous footy.
"I hope no one finds out how bloody good they are before the next World Cup. I'll have to tone it down a bit until then. Promise me you'll do the same."