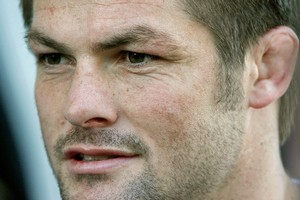 Richie McCaw has found some unlikely support, with former Wallaby open-side flanker Phil Waugh yesterday defending the All Black captain against Peter de Villiers' claims of cheating.
With both sides recording slick victories over the stagnant Springboks ahead of Saturday's Bledisloe Cup test, Waugh played down comments by de Villiers that referees are turning a blind eye to McCaw's foul play.
"It's about responding to how the referees interpret the breakdown during the game - and obviously all referees are different," Waugh told the Sun-Herald.
"The quicker you get the interpretations right for the game the better you're going to perform in the game. Richie's a very astute and smart rugby player who picks that up very early in the game, which allows him to push the limits. And that's what he's out there to do."
De Villiers made headlines last week when he suggested the All Blacks' two opening Tri-Nations victories over the Springboks had been fixed to generate interest in next year's World Cup.
"I've got my own observations about the last two tests," de Villiers said. "And maybe I can't say it in public, but we do have a World Cup in New Zealand next year and maybe it was the right thing for them to win the games so they can attract more people to the games next year."
- Staff reporter