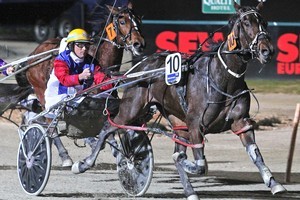 TAB bookmakers are willing to provide a bonus for any punter who wants to set records at Alexandra Park tonight.
Steve Richardson will open champion filly De Lovely at $1.04 in her three-horse heat of the Australasian Breeders Crown, for which she has flown back from Australia.
De Lovely made her Australian debut last Friday night with an effortless victory in the Australian Oaks and could have been expected to stay there and prepare for the ABC finals, for which she will also be a hot favourite.
The ATC has taken the unusual, but most welcome, step of making her three-horse race tonight a tote event, meaning the public will get to see De Lovely's clash with fellow Harness Jewels winner Gotta Go Harmony and last season's group one winner Flying Pocketlands.
Even against such well-performed opposition De Lovely is a chance of paying $1 to win, as she did when beating older opponents at Alexandra Park two starts ago.
But bookmakers say they are willing to accommodate those who think De Lovely is a certainty and if they really want to get serious they will provide them with a bonus.
"We will open her at $1.04 and will take as much money as people want to throw at us on her even though we know she might go around $1 on the tote and be a certainty," said Richardson.
"I am willing to take anything up to $300,000 in bets on her but I think the most we will get is maybe some punters having $20,000 on her, or something like that."
The largest single bet in New Zealand harness racing history is the $100,000 plonked on Auckland Reactor in the junior free-for-all at Addington on New Zealand Cup Day last year.
The punter who took the $1.05 that day never had any reason to worry and it was smart betting as he paid just $1 on the win tote.
But Auckland Reactor hasn't run in the first four in five starts since, so the risks of such high-stakes gambling are obvious.
While it would take great courage - or some would say stupidity - to equal a bet of that size tonight, Richardson said anybody wanting a share of the record can have $1.05 instead of the $1.04.
"I know we probably aren't going to get anybody wanting that much on her but we also realise any money we take on her could be basically making a donation to the punters."
Tonight's race is worth only $5000 but De Lovely's connections will have no shortage of motivation because if she doesn't win tonight she has to head back to Victoria to qualify for the Breeders Crown finals.
Considering they went to the trouble and expense of flying her home especially for this heat and a home preparation it wouldn't surprise to see David Butcher put the issue beyond doubt by rushing her off the gate tonight and dominating the race from in front.
While De Lovely is at tiny odds tonight, so too will Butcher be in the driver's challenge.
He will also partner De Lovely's high-class stablemate All Tiger in tonight's main pace and after the way he dealt to similar opposition last start it is impossible to go past him, especially with St Barts scratched.
Butcher will also be on the favourite, Mighty Creation, in race three as well as each-way chances with Dead Calm, Midfrew Palisades and Kozaroza.
Butcher starts the night equal with Tony Herlihy on the Alexandra Park driver's premiership on 40 and tonight's strong book should be enough to swing the Streamline Freight-sponsored award his way.
Herlihy rates trotters Diedre's Flash (race two) and Motu Young Jacob (race five) his best chances ahead of the improving Exceptional Cullen (race seven).
"But it is going to be hard to hold David out now with the book he has this week," said Herlihy, who won the Alexandra Park trainers' and drivers' premierships last season.
CERTAINTY?
* De Lovely will be one of the hottest favourites of the season at Alexandra Park tonight.
* She was flown home after her Oaks win in Melbourne last Friday especially for tonight's heat of the Breeders Crown.
* Bookies are prepared for any sized bet on her at $1.04 and would extend that to $1.05 if a punter wanted to match the $100,000 New Zealand record for a single bet.
* Top drivers David Butcher and Tony Herlihy are set to dominate tonight's meeting.