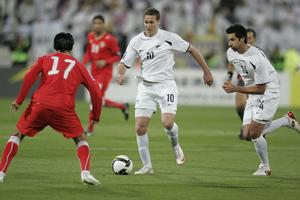 Daniele Di Rossi summed it up perfectly. The Italian midfielder said failing to progress to the second round would be "as serious as if New Zealand failed to get out of the group stages at the Rugby World Cup".
Catastrophic indeed. But Di Rossi quickly restored order by saying: "We're Italy and we should win."
They should. Ninety-nine times out of 100. But you never know when that one time might be. It almost happened 12 months ago in a pre-Confederations Cup friendly in Pretoria, but the All Whites sensibly let Italy win 4-3 so they didn't use up their one chance in a meaningless match.
New Zealand will create problems for Italy tomorrow morning with their aerial and aggressive approach and they are confident of keeping things tight at the back. It means the midfield battle is critical.
Italy will be without the masterful Andrea Pirlo, who doesn't look much like a footballer but moves like a Rolls Royce with the ball at his feet.
Pirlo is still struggling with a calf injury and won't be risked against New Zealand. But, as Di Rossi says, Italy will win.
"They might be without Pirlo but they have another couple who can play in there," All Whites midfielder Ivan Vicelich said in obvious understatement. "Their squad of 23 is outstanding so it's going to be a very, very difficult game for us."
The All Whites held a closed training session yesterday when they worked on their shape and tactics and flew to Nelspruit late last night, before a final training session at the Mbombela Stadium.
Coach Ricki Herbert will field the same starting side that drew 1-1 with Slovakia, meaning Vicelich retains his place in central midfield.
It was the position he played at the start of his professional career before shifting to central defence but he has fitted in well following a return to the engine room.
"He's a smart player," fellow midfielder Simon Elliott said. "He's played in Europe for years so he knows what he's doing. I'm really grateful because he does the dirty stuff that people don't pick up on."
Vicelich described it as a place where "animals fight" - and he will face a bulldog in Di Rossi.
"It's a tough position, especially changing from defence," he said. "You need another lung in there. But playing at the back or in midfield doesn't matter to me. Having a bit of time against Chile and in training meant I quickly adjusted. I thought I went pretty well. Overall we were very happy with what the boys pulled off."
It has dawned on the players how the country responded to the Slovakia result and they have set up a board of about 60 emails from well-wishers in their dining room at the Serengeti Estate. They were also chuffed to receive messages of support from the All Blacks and Prime Minister John Key, who will be in the crowd at Nelspruit.
"The place seems to be buzzing," Vicelich said. "It's about time football did this in New Zealand. It is the world's game."
One can only imagine the reaction on both sides of the world if the All Whites achieved the impossible.
IF THE All Whites need any reminder they can compete with Italy, they need only cast their minds back 12 months to the Confederations Cup friendly in Pretoria.
New Zealand led three times, before Italy won 4-3 in the only international between the two sides.
Yes it was a friendly and, yes, the Italians didn't put on their big guns like Fabio Cannavaro, Gennaro Gattuso and Vincenzo Iaquinta at all or until late in the match when they realised they could be embarrassed by a minnow of world football.
But there are no bad Italian teams. They've won the Cup four times, including in Germany four years ago. Even though this one is said to be well past its prime, it's still among only six or seven teams who can genuinely win the tournament.
For Chris Killen, it was a night to remember. The All Whites striker grabbed a double as he and Shane Smeltz, who also scored, troubled the Italian defence. His first came courtesy of a powerful header from a corner.
"It was a good night," he said. "Probably one of the better performances I've been involved in over the last 10 years. We were leading three times, and any time you lead the world champions three times is a big achievement.
"But it's going to be a different kettle of fish when we play them this time around. They were probably in friendly mode and now it's the World Cup. We are at least going to have to be at that level again [that we were 12 months ago] if we are to be any chance."
Italy are traditionally slow starters at World Cups and build momentum as the tournament progresses. It's a good time to be facing them - the opening game would have been even better - but Italy will feel they need to win the match just to make sure they top the group. They were nothing more than average against Paraguay but their average can move to excellent at any stage. It needs to be remembered they went through qualifying unbeaten, winning seven of 10 games.
Another reason New Zealand can feel optimistic is the fact they have changed significantly from the side that lined up 12 months ago.
Not only is Ryan Nelsen there but they also have four players who were unavailable 12 months ago: Rory Fallon, Winston Reid, Tommy Smith and Michael McGlinchey.
Almost half the team has changed, they are playing a different and more successful formation, and there is a belief within the All Whites that they can actually compete.
"It was 12 months ago and our team is a whole lot different," midfielder Simon Eliott said. "Their team is probably a lot different, too. It was a good indicator of where we were at last year but this is the World Cup - a whole new ball game.
"They will be well prepared this time. We won't catch them by surprise at all and maybe we did last year. It's going to be a very tough game for us."
New Zealand won't adopt a complicated approach. Their best chance lies in the aerial threat up front and they have played a more direct style in recent times. They also scored two of their three goals against Italy last year from set-pieces.
"That's a big strength," Killen said.
"We have big boys up front and want to put ourselves about."