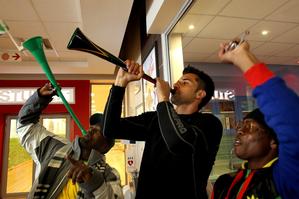 To all those kind people who have written over the past few days, the answer is no - I cannot bring you home a vuvuzela from South Africa.
It's up to those of us on the frontline to stand strong and no amount of begging will help. The big V must be stopped.
The typical email I've received goes something like this:
Dear Chris,
Can you bring me home 20 vuvuzelas ...
No "how is the weather?", or "how is the World Cup?". Just straight to the point. Get a vuvuzela.
This is a craze.
The thing about a vuvuzela is this; once you have one in your hands, the urge to blow it is irresistible.
My moment of truth happened when our van driver produced a bright red version of the African soccer trumpet.
Among a group of five I was by far the slowest learner. The other four took to the bugle the way Lionel Messi took to a soccer ball, and within seconds they were making the all too familiar noise, a cross between a cow in trouble and an Istanbul traffic jam. Times a million.
My initial attempts sounded more like something that would come out the back end of a goat, but within 30 seconds, tops, I'd mastered it. What a thrill.
But that's it. Thrill over. From there on, the vuvuzela is a giant, noisy pain in the ear.
As for banning the vuvuzelas from World Cup grounds though, no chance. Security wouldn't allow it.
In most countries, smuggling a metre-long bright plastic trumpet into a ground would be a tough ask, but anything below a herd of elephants is a candidate to get through the gates at this World Cup.
South African security guards have an attitude problem ... they don't have one.
They may well be highly trained, the only problem being they are not trained as security guards. At Ellis Park, we duly lined up, if you can call something that looked like a wild hamster convention a line. Once at the front, and I use the term loosely, the problem emerged - the solitary x-ray machine was on the blink.
A man who looked like a passerby, or he might have been a security guard, was underneath, while the whole guts of the operation, the heart and soul of the x-ray machine, was scattered on its own conveyor belt.
A man with a wand waved it about my person. As I was fully armed for the day's journalistic work, pockets laden, the metal detection wand beeped like a fleet of forklifts in reverse. Search - what search? I was waved through.
Arriving back at the compound, also known as our hotel, a security guard called me over.
I could tell he was a security guard because he was half asleep and sitting on the ground.
He adjusted his position slightly. It pays to be poised for action in the security game. He wanted to know where my ID bracelet was.
"Media," I said, waving my card.
Another security guard, a good 10 metres away, took control of the situation. "Media," she said to her prone mate, and waved me through.
On one hand, it's nice not to get searched and stopped all the time. On the other hand, it's a major worry. The few guards who do look interested are often undermanned and overwhelmed at stadium gates.
A bloke approached this week, wanting to know if I could speak English.
He wanted a job in whatever country I happened to be from.
"What do you do?" I inquired.
He nominated security, but he's no chance to get through.