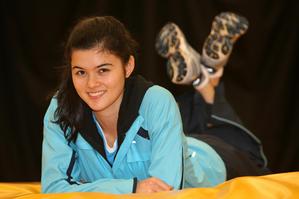 The New Zealand Olympic Committee has received assurances that two-time Commonwealth Games gold medallist Beatrice Faumuina has re-committed to her sport.
The resurrection of Faumuina and selection of novice jumper Elizabeth Lamb are the features of the 12-strong athletics team chosen for Delhi.
High jumper Lamb, a 19-year-old out of the Waitakere City Athletics Club, is taking a leap into the unknown, while her discus-throwing clubmate will be attending her fifth Commonwealth Games.
NZOC secretary-general Barry Maister acknowledged that Faumuina's recent international career had been "interesting".
In Beijing, Faumuina was heavily criticised for comments made that she was satisfied with a substandard performance that saw her throw 57.18m, placing a lowly 28th.
Just last year she was expected to compete in the Prefontaine meet in Oregon to attempt the qualifying standard for the 2009 world champs, but had decided to focus on her university examinations instead.
"This year Beatrice has decided to do the things she needed to do to get back on top," Maister said.
"I give her credit for that because she had a lot of flak around her recent international performances. Leaving that aside, we know she is capable of winning us a medal.
"If she throws to her best, she'll win the gold medal, there is no doubt about that. All the utterances we are hearing and all the assurances we are getting is that she knows what to do.
"She's been around the scene long enough to know what to do. I congratulate her for taking that step and saying, 'Hey, I know I need to be better than that, I know what I can do, I know what I'm capable of doing'."
He said the NZOC "would probably [have] liked to have seen more new names in the mix, because that mix is fairly well known", but they did have high expectations of multiple medals.
Aside from the obvious candidates such as Valerie Vili, Nick Willis and Faumuina, Maister nominated middle-distance runner Nikki Hamblin as having huge potential.
A medal might be a big ask for Lamb in her first major senior meeting, but New Zealand does have recent pedigree, with Angela McKee winning bronze at Melbourne four years ago.
She did so with a leap of 1.83m, 2cm lower than Lamb achieved to qualify.
"Once they released the standards it really sunk in that I could make it," Lamb said. "I jumped 1.85m previously at the national champs last year. It was outside the qualifying period but I knew I was capable of it."
Lamb then matched that height, her personal best, at the Porritt Classic in February to qualify.
The churchgoer describes her sport as a mental battle, pointing out that 2cm is nothing in everyday life, but can be the difference between triumph and failure in high jump.
"You can think about high jump and pole vault as the only two sports that end in failure - you always finish on three [failed jumps].
"I just need to keep pushing the bar up as high as I can make it."
Lamb has been "coached officially" since she was 14, making her a relatively late starter, but it was the advice of a teacher, Mr Robb, at Glen Eden Intermediate in West Auckland that sent her on her way.
"He told me to land on my bum, not my feet."
The advice of Brent Booker, who has coached her since 2007, is no doubt more technical.
The NZOC also named a 12-strong gymnastics team for Delhi. The team is spearheaded by the men's artistic team - Mark Holyoake, Brandon Field, Patrick Peng, Mischa Koudinov and Matthew Palmer - who have developed into a medal prospect at Delhi.
There is a four-woman artistic team comprising of Holly Moon, Lani Hohepa, Jordan Rae and Briana Mitchell.
Keziah Oliver, Kimberley Robson and Mereana Rademekers make up the rhythmic gymnastics team.
NZ ATHLETICS TEAM
* Adrian Blincoe, 5000m, Philadelphia, US
* Beatrice Faumuina, Discus, Auckland
* Stuart Farquhar, Javelin, Hamilton
* Nikki Hamblin, 800m/1500m, Cambridge
* Jessica Hamill, F34 Shot Put, Invercargill (paralympian)
* Elizabeth Lamb, High Jump, Auckland
* Andrea Miller, 100m hurdles, Gold Coast, Australia
* Brent Newdick, Decathlon, Auckland
* Valerie Vili, Shot Put, Auckland
* Rebecca Wardell, Heptathlon, Christchurch
* Monique Williams, 200m, Tokoroa
* Nick Willis, 1500m, Ann Arbor, US
* Additional nominations are expected at the end of July.
* Kimberly Smith (marathon) has met the selection criteria but will make a decision on her attendance at a later date.