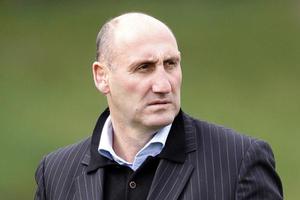 New Zealand rugby may yet be able to call on the experience of Jock Hobbs ahead of next year's World Cup, New Zealand Rugby Union (NZRU) chief executive Steve Tew said today.
Hobbs, the NZRU and Rugby New Zealand 2011 Ltd chairman, today stood down from both roles, effective immediately, for health reasons.
He was diagnosed with a chronic form of leukaemia over four years ago, and stepped aside on the strength of a diagnosis which now requires six months of chemotherapy.
The NZRU board met and elected Mike Eagle as acting chairman, with the situation to be reassessed at its next scheduled meeting on May 27.
RNZ 2011 chief executive Martin Snedden said deputy chairman Brian Roche would act as RNZ 2011 chairman until the next full meeting of its board on May 24.
Tew said former All Blacks captain Hobbs' experience would leave a gap.
"Jock's wisdom and guidance, his counsel and his friendship will be sorely missed around the table," he said.
"We'll keep in touch with him, but I've said to him today that I will not ring him again for the next six months, at least not to talk about rugby."
Tew said there was still the chance Hobbs would be able to return at some stage and contribute leading into the rugby World Cup, which begins next year in Auckland on September 9.
"He certainly hasn't made any final decisions, although I'm sure the decision will be entirely based on what's in his best interests from a health perspective.
"If we were to paint the most positive scenario, and he undergoes treatment and gets the leukaemia back into remission, then depending on what he decides in the next few weeks, we may be able to leave some doors open for him to come back.
"Certainly that's the stated desire of the Government's, and we would be very supportive of that providing his health is right."
Rugby World Cup minister Murray McCully today expressed regret at losing Hobbs, saying he had played a key role in securing hosting rights for New Zealand in Dublin in 2005, and had been an outstanding chairman of RNZ 2011.
"On behalf of the Government, I extend our very best wishes to Jock and his family as he starts this difficult period of treatment. It is our strong hope that Jock will be well enough to participate again in the Rugby World Cup 2011 programme," he said in a statement.
In the meantime, Tew said he had complete confidence there would be minimal disruption for both the NZRU and RNZ 2011.
"As a director of RNZ, I'm confident that Brian is well-versed in what's on the table currently. We're well advanced on all the work, we've got a good settled team around the board table, a good management group.
"While Jock's wisdom and experience will always be missed, we'll be fine and get on with it."
Tew said the NZRU also had a good mix of new blood and experience, including the recent re-election of former All Blacks captain Graham Mourie for a fourth term to the board.
"We've got a couple of new people with very strong credentials and the other guys have been gaining experience over the last couple of years."
- NZPA