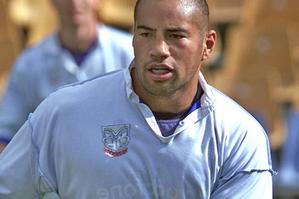 Former Kiwis and Warriors prop Jerry Seuseu is the new welfare and education manager at the Warriors, responsible for ensuring players are being looked after off the field, as well as managing the Junior Warriors in the national youth competition.
Since 2007, the 35-year-old has been in charge of the Auckland Rugby League schools' programme as a football development officer.
Seuseu says the new role is an extension of that: "My job is all the off-field stuff, giving players options to take a load off the coaches. When I look at my playing days, some boys struggled when it came to life outside the game.
"It's about self-responsibility. I know when I played I wanted to go to university but I'm there to encourage different trades as well. Some guys might want to train as mechanics or chefs. At under-20 level, the NRL has a policy where you can't play unless you're working or studying in some capacity."
Seuseu is a qualified school teacher with two degrees but is warning not to expect miracles immediately.
"You can only do so much. Really it comes down to how much the players want to take responsibility for their own futures. You can't force these things."
Seuseu's personality is what was most sought by Warriors coach Ivan Cleary, having played alongside him from 2000-02 as the team's fullback.
"Jerry was a tough competitor on the field but off it he has great people skills which will serve us well," he said.
After 11 tests for New Zealand and a 132-game career with the Warriors from 1997-2004, including player of the year in 2001, Seuseu ended his playing days after a two-year stint with Wigan in 2005-2006. The signing follows Kiwis league legend and qualified personal trainer Ruben Wiki (36) joining as high-performance assistant. Wiki has been in pre-season training over the last few weeks.
Five former Warriors are now involved in the revamped football department. Foundation captain Dean Bell heads up the recruiting arm of the operation, while Tony Iro is now assistant coach to Cleary.