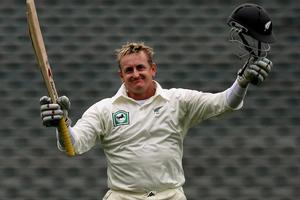 A fourth player has been flown in as injury cover as the Black Caps prepare for Sunday's Champions Trophy semifinal against Pakistan.
Scott Styris will join the team from India to provide an alternative if allrounder Grant Elliott fails to recover from a thumb injury incurred in New Zealand's last game against England.
Elliott picked up a career-best four for 31 in the Black Caps' four-wicket win over England in Johannesburg, but broke his right thumb while batting as New Zealand chased 147 on a pitch with uneven bounce.
New Zealand coach Andy Moles said Elliott had come through a net session earlier today (NZT) and the chances of him being able to play were good.
"But we thought it prudent that we have cover for him just in case he can't play at the weekend, so we're flying Scott Styris in from India so he'll be here for cover," Moles told RadioSport.
The Black Caps have had a horrendous run with injury, beginning when allrounder Jacob Oram returned home without playing a match after straining a hamstring at training.
Opening batsman Jesse Ryder sustained a groin injury during his innings of 74 in New Zealand's 38-run win over Sri Lanka on Sunday, and a broken hand sustained in training on Tuesday ruled fast bowler Daryl Tuffey out of further play.
Wellington pace bowler Iain O'Brien has been called into the team to replace Tuffey.
Black Caps team manager Dave Currie said yesterday that there was a positive mood in the camp despite the run of injuries.
"The guys are in good spirits and despite the setback of losing players, there's resolve and in some ways it's hardened that resolve."
- NZPA