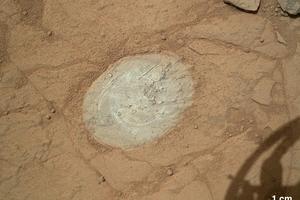 NASA's Mars rover Curiosity has used its aptly named Dust Removal Tool for the first time, clearing the Red Planet's ubiquitous dust from a patch of a flat rock.
NASA said the tool - a motorised, wire-bristle brush - is designed to prepare selected surfaces for investigation by Curiosity's other instruments.
The Alpha Particle X-ray Spectrometer and the Mars Hand Lens Imager, for example, need dust removed from rocks in order to gain information.
The chosen target for first use of the Dust Removal Tool is on a rock in the "Yellowknife Bay" area of Mars' Gale Crater.
"We wanted to be sure we had an optimal target for the first use," said Diana Trujillo of NASA's Jet Propulsion Laboratory, the mission's activity lead group for the Dust Removal Tool.
"We need to place the instrument within less than half an inch of the target without putting the hardware at risk. We needed a flat target, one that wasn't rough, one that was covered with dust. The results certainly look good."
The rover team is also evaluating rocks in the area for potential targets for the first use of the rover's hammering drill in coming weeks.