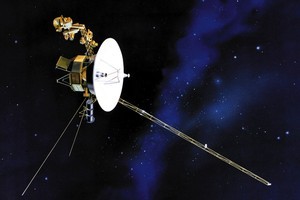 After a voyage lasting more than 34 years, a spacecraft that has travelled further than any man-made object is on the verge of leaving the solar system and entering interstellar space, where nothing terrestrial has gone before.
Nasa scientists said that the Voyager 1 space probe, which has travelled about 11 billion miles since its launch in 1977, has entered the cosmic equivalent of the doldrums, where the high-speed solar winds die down at the very edge of the solar system.
Voyager 1, launched within weeks of its twin probe, Voyager 2, was designed to explore Jupiter and Saturn. After making a string of important observations, such as active volcanoes on Jupiter's moon Io and the intricacies of Saturn's rings, the mission was extended. Voyager 2 went on to explore the faraway planets of Uranus and Neptune.
However, long after the official planetary missions ended, both spacecraft continued to plough through the farthest regions of the solar system, while maintaining radio contact with mission control through its Deep Space Network.
Nasa expects that within the next few months - or possibly years if margins of error are taken into account - Voyager 1 will leave the solar system and begin its journey through the vast void of interstellar space that comprises most of the Milky Way galaxy. Voyager 2 - travelling not far behind - will follow suit.
Scientists at Nasa said that over the past year, Voyager 1 had entered a kind of "cosmic purgatory" where the wind of electrically charged particles streaming from the sun has calmed.
Both spacecraft are now in a region known as the "heliosheath", the outermost layer of the solar system, where the solar wind, which can travel 25km a second, is being slowed down by the rising pressure of interstellar gas. Nasa scientists believe this indicates the imminent entry of Voyager 1 into the interstellar region, which is dominated by another kind of magnetic wind.
"We shouldn't have long to wait to find out what the space between the stars is really like," said Ed Stone, Voyager project scientist at the Caltech in Pasadena.
- INDEPENDENT