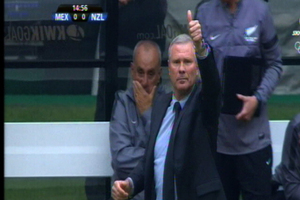 All Whites coach Ricki Herbert has defended his strategy in the 5-1 defeat against Mexico today, saying the ultra defensive tactics were the right approach in the circumstances.
Several of the Mexican players suggested after the match that nothing is yet decided, and they face a "very complicated'' match in Wellington.
But the dreams of a second consecutive World Cup for New Zealand - however remote they were - are gone after Mexico's comprehensive victory.
There are plenty of mitigating factors but the All Whites' extremely conservative tactics - they essentially forfeited possession to the home side for much of the first half - were incredibly risky.
It meant Mexico could concentrate on full on attack, and sooner or later the levee would break. It also demanded an extreme physical effort for the visitors, which was unsustainable for 90 minutes.
However Herbert insists his team was on track after the first third of the game, when they had held the Mexicans to 0-0.
"Lets not kid ourselves we got turned over but they can do that to any team,'' said Herbert. "However I think after about thirty minutes we probably did have it about right.''
The coach assessed the opening Mexican goal, which came after the New Zealand defence failed to deal with a cross, as a turning point.
"The first goal was really sloppy and we should have cleared it,'' said Herbert. "Then you have that tough decision, chase the game or don't chase the game.''
Herbert was also disappointed with the way his side handled crosses, as El Tri scored three goals from headers, including a brace from corners.
He also stood by his baffling decision to select Jeremy Christie in midfield, despite the 30-year-old being dragged shortly after the half-time break.
"You get your tail kicked 5-1 by a very good side and you have to put your hands up,'' said Herbert. "They were the best side by a country mile tonight. We got outdone in one on one areas and athletically around the pitch we were second. [But] I stand by my selections; it is my responsibility to pick the team and that is where the accountability sticks.''