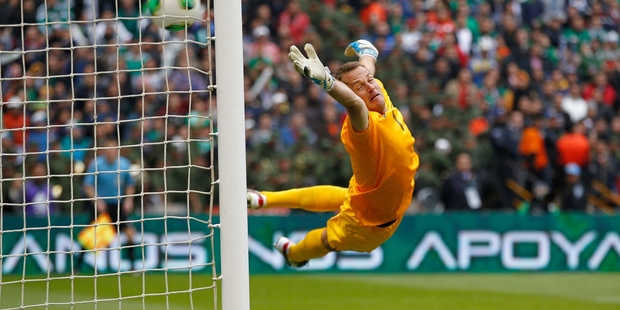 In the aftermath of the "Azteca Massacre", a defiant Ricki Herbert is considering another World Cup campaign, and wonders if there is "anyone better" to take on the role, should he step aside as previously planned.
Herbert's contract finishes at the end of this campaign, which is almost certain to come in Wellington next week after yesterday's shattering 5-1 defeat at the hands of Mexico.
It was understood that Herbert would not seek a new term but he is clearly having second thoughts about moving on after eight years as national coach.
"Who knows about my future," said Herbert after the game. "Is there anybody better? [I] don't know ... [but] those are discussions I will have with New Zealand Football.
"But it's not about me, it's about the future of the game. If for whatever reason there is a decision to stay on and people are comfortable about that then those decisions will be made.
I have no 100 per cent [position on my future] in my mind at the moment."
Herbert's role came under scrutiny after the Oceania Nations Cup in Honiara last year, where the All Whites lost to New Caledonia and missed qualifying for the lucrative 2013 Confederations Cup.
It was only the achievements at the 2010 World Cup in South Africa, and the fact that at the time he also held the Phoenix job and had a lot of influence within the sport, that saved him. It may not be enough this time.
"At the end of the day I'm a football manager," said Herbert.
"Sometimes things can go your way, sometimes they don't go your way. [But] you go back four years ago. The game was broke, we were 156 in the world, we couldn't beat Vanuatu in a play-off [at the 2004 Oceania Nations Cup]."
"I've put my loyalty, my life, everything into - and I am quite happy to say this - rescuing football in New Zealand. Professional football was gone, [now] you've got a great football club [in Wellington], whether I'm there or not. I instigated that and I put my life and my energy into it, as I did with the All Whites."
Some things conspired against Herbert in the build-up to this game, but the coach didn't help his cause.
The decision to use Jeremy Christie - who hasn't had a club for the best part of two years - in the centre of midfield was baffling and Christie was exposed regularly. Shane Smeltz, consistently the All Whites' best attacking weapon over the past few years, didn't even take the field while Marco Rojas got less than half an hour.
It meant that the All Whites had no way of retaining possession, which was ultimately fatal.
You can't underestimate the skills, fluency and pace of the Mexicans - but they were given so much time and space to play it was always going to get harder as the game went on.
"We were guilty of sitting back, said Ivan Vicelich. "But it is a double-edged sword.
"You press too far and gaps open up and they will get you on the break. Unfortunately we were poor at times with some decisions and everything clicked for them."
The team leave Mexico City for New Zealand today, via Los Angeles. They will arrive in Wellington at 11am tomorrow morning to begin preparations for next Wednesday's return match.