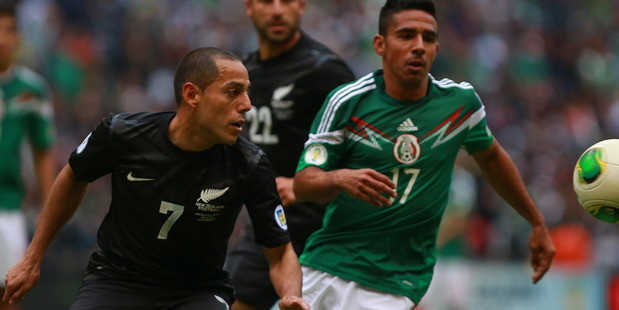 All Whites captain Tommy Smith concedes that the team got their tactics and game plan wrong today against Mexico.
The New Zealand side were thrashed 5-1 at the Azteca Stadium and in the first half especially seemed willing to let the home side have possession, content to defend from in front of their own penalty area. The approach worked for the first 30 minutes but was always going to be difficult to maintain.
"We dropped far too deep which allowed them too much time on the ball," said captain Tommy Smith. "We were constantly under pressure in that first half - you can never hold out for 90 minutes if you haven't got a touch of the ball. Eventually they will score."
At one stage in the first half one Mexican player left the ball in the centre circle, before another team-mate came to pick it up. The All Whites had to maintain a defensive approach, but they looked to take the cautious approach too far.
Coach Ricki Herbert preferred to emphasise the inability to play to their strengths as his greatest disappointment.
"We have things that we pride ourselves on and we just didn't perform in those areas today," said Herbert. "You can't afford that against a team as good as Mexico."
After all the talk about an aerial advantage, the All Whites conceded two goals from set pieces. The second, a first minutes from half-time, felt like a killer blow.
"That was the worst time to concede," said Ivan Vicelich. "We have always been so resolute in those areas. But you have to give credit to Mexico. They were very good and once they started to click it was always going to be difficult."