New Zealand can once again take a place at soccer's grandest table if they get past Mexico in their qualifying playoff. Victory will mean a third appearance in the finals, and the second in back-to-back tournaments. All that after a 28-year hiatus since John Adshead and his squad shoved open a door previously seen as unmoveable for New Zealand soccer. So what shape is the game in approaching a huge week for the sport in this country? In the first of a three-part series, the Herald looks at the state of the game in its developmental areas; and the pathways available to talented young players.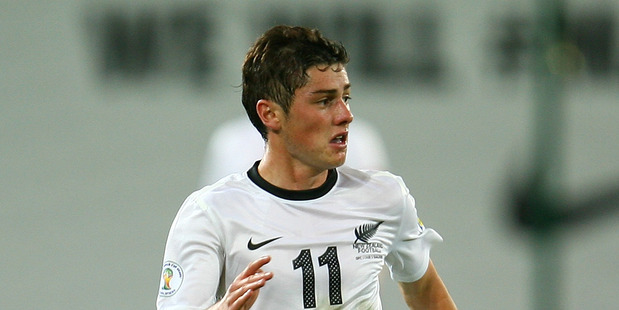 As football's popularity among junior players in New Zealand continues to rise, parents are more likely than ever to hear the words 'I want to be a professional footballer'.
But with only one professional team and a plethora of options overseas, there are a number of different pathways for Kiwi kids to trace to the top. Steven Holloway takes a look at three different routes through New Zealand, United States and England.
1. New Zealand
Marco Rojas, Kosta Barbarouses, Ben Sigmund
Before Marco Rojas (pictured) was earning hundreds of thousands of dollars in Germany, he was terrorising New Zealand Football Championship defenders with Waikato FC.
The All Whites' top attacking talent in the past 20 years used New Zealand's national league and then the Phoenix as a stepping stone to go from schoolboy to schooling professionals.
Rojas' path was far from traditional though. Despite slipping under New Zealand Football's radar throughout high school, Rojas got his big break when the Phoenix's fan-group the Yellow Fever, hand delivered him to Ricki Herbert via a scholarship.
But for Kiwis who are not quite on Rojas' level, gaining a professional contract through the ASB Premiership can be a much trickier journey. In New Zealand there is only one professional squad of 30 to aim for and competition can be stiff.
The good news is new Phoenix coach Ernie Merrick has shown a real propensity for youth and has signed six Under-20 squad members this season when the A-League regulations only require three.
Many talented Kiwi kids overlooked by the Phoenix will then take a shot at England or Australia, but a 20-year-old with a playing CV that only features an amateur side from New Zealand may have a tougher time than most. Thirteen of New Zealand's 34 professional footballers currently play for the Phoenix, so it is the path of least resistance and the majority of those have passed through New Zealand's national league.
2. US
Ryan Nelsen, Simon Elliott, Tony Lochhead
Of the six English Premier League footballers New Zealand has produced, two have come through the US College system.
State of the art facilities, training every day, elite competition and a degree to fall back on made the US an easy decision for former Premier League duo Simon Elliott and Ryan Nelsen, who both attended Stanford University.
"The facilities and resources available at that school [Stanford] are incredible. Probably better facilities than you would have in New Zealand, all in one place." Elliott said. "But it's important that kids target where they are going and why they are going there. The Uni's can differ greatly in terms of coaching, facilities and standard of play."
Nelsen was picked up by DC United in the 2001 Major League Soccer Superdraft, while Elliott used United Soccer League (one level lower) first division team Boston Bulldogs as a stepping stone before signing with the LA Galaxy.
Acceptance to an NCAA division one school (the top tier of talent) also includes an intelligence factor. Top schools require a pass mark on a standardised SAT test for all incoming freshmen and student athletes are also required to maintain at least a C average throughout the season to stay eligible.
"If you're at a good school with a good coach then great," Elliott said. "But one of the issues New Zealand kids have is they're not really sure who's a good coach and what the schools are like."
At the end of each college season the top 54 amateur players are invited to the MLS combine where players spend six days training, playing and interacting with prospective MLS scouts and coaches as a precursor to the draft.
3. UK Apprentice
Chris Wood, Leo Bertos
When Chris Wood was 17, he took up an apprenticeship with West Bromwich Albion in the English Premier League.
In the space of 12 months the powerful, quiet kid from St Paul's Collegiate in Hamilton went from Wanderers striker in New Zealand's Northern Premier League to West Brom striker, playing in front of 20,000 fans.
But former NZ Football Director of Coaching and West Bromwich Academy youth coach Roger Wilkinson, the man responsible for getting Wood in the door in the UK, said Wood was the exception.
"The kids are identified at 15 in the UK, so for Kiwi kids going over they have to be better than what is already there. If you're just as good they're not going to bother," Wilkinson said.
A European passport is also a pre-requisite for Kiwis pursuing a career in England or Europe and many careers have been stalled by a lack of sufficient heritage.
"I like the American college route because I feel it gives them a bit more time to develop," Wilkinson said. "For younger kids I think there is a route into the UK, for older kids I would suggest the US College scene.
"I'd go the States over a youth contract at an A-League club too. Because they play against other kids their own age. If they go to the Phoenix, who do they play against?
"Going to the US also helps to harden you up a bit because it takes you out of your comfort zone."
The series
Tomorrow
We take an in-depth look at the ASB Premiership which kicked off its 10th year last weekend. Is it meeting its initial objectives? We canvas opinions from those in the know. Plus a look at the women's game through the eyes of a current Football Fern.
Thursday
Over the next week New Zealand Football could pocket the biggest windfall in its history. But what has it done with the $10 million nest egg it got in 2009 for qualifying for the last World Cup?