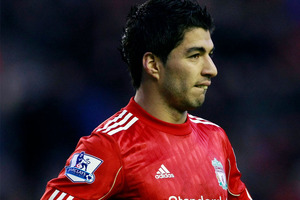 Brendan Rodgers has told Luis Suarez he must apologise to his Liverpool teammates and the club's fans who he insists deserve better from the controversial Uruguayan.
The Reds boss, speaking after his side squandered a hatful of chances in their 1-0 friendly defeat to Celtic in Dublin, also reiterated his stance that the striker, who is wanted by Arsenal, is not for sale under any circumstances.
And now he's told the player to admit the error of his ways by showing some contrition ahead of the beginning of the Premier League season, which kicks off with Liverpool's clash with Stoke next Saturday.
"Luis needs to do a couple of things," Rodgers said.
"Obviously, we need initially a recognition, an apology to his teammates and the club.
"And then I'm sure once we get that, we'll have the commitment he's ready to fight like he's always done.
"From the day I walked in he fought tirelessly for the club. But I have to protect the fans, the supporters of this club and the players -- they deserve more than that.
"He's spent some days working on his own, he's been working very hard. When he comes back from his international trip (Uruguay play a friendly in Japan in mid-week) we'll assess it."
Rodgers mocked reports linking Suarez with a move to the continent, where Real Madrid were said to be interested in acquiring the 26-year-old, insisting only Arsenal have made a bid for the forward.
"There's lots of speculation about all these clubs," he said.
"I was made aware at the end of last season that a number of clubs would come in for him, but we've had one that's it. Our intention is to keep Luis. The story's the same."
Reds owner John W. Henry was in Dublin for the sell-out friendly, but Rodgers insisted there were no further talks on the future of the player who has dominated their entire pre-season preparations.
"No, there was nothing here," he said. "I spoke with him in Norway, during the week, and we're all on the same page. We want to keep him. Nothing more than that."
Liverpool fans were given a taste of life without Suarez in Saturday's 1-0 defeat, where Celtic's Amido Balde scored the only goal.
Iago Aspas, Stewart Downing and substitute Daniel Sturridge all wasted good opportunities to score against a vastly under-strength Celtic side.
But Rodgers is not concerned with the lack of goals.
"I'm not really worried, no," he insisted. "We played a lot of games last season without Luis and we continued to score without him.
"That's not to say we don't want him, he's world class and when he's committed we'll welcome him back with open arms.
"But we created chances, yes we couldn't score, but that's something we'll improve on."
-AAP