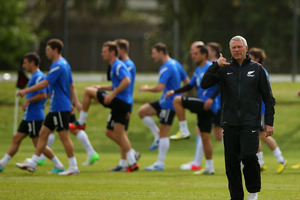 The All Whites look set to play in a four-sided international tournament in Saudi Arabia to prepare for their two-legged World Cup qualifier in November.
In September the All Whites will face Trinidad and Tobago, United Arab Emirates (UAE) and Saudi Arabia according to reports on the official UAE website.
The matches will be played in the FIFA international window on September 6 and 8, with the final played between the top two sides on September 10.
The Trinidad and Tobago football association are expected to make an announcement about the tournament early tomorrow morning.
In the FIFA international window in June New Zealand Football will turn out an 'A' team to face Jordan at North Harbour Stadium, where they will be coached by All Whites assistant coach Neil Emblen.
The All Whites will likely not use their top players in the June and July FIFA windows, because if they qualify it will be the only time the top players - like West Ham player of the year Winston Reid and Germany-bound Marco Rojas -would have to rest.
The decision over the venue for the home leg of the World Cup playoff in mid November is still undecided despite the players voicing their preference for the match to be played in Wellington.