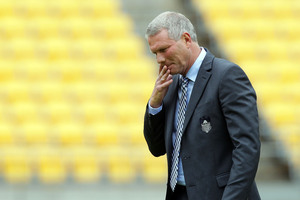 The Wellington Phoenix are set to appoint their new coach this week - and it won't be an Englishman.
Former Manchester United star and Reading manager Steve Coppell and ex-Newcastle and West Ham coach Glenn Roeder had been mentioned but won't be coming to Wellington.
Iain Dowie has also been linked with the job but the Herald on Sunday understands the former Northern Ireland and Crystal Palace manager is not in the running.
It is believed the focus has narrowed to two - at the most, three. None is English but at least two are European. One of the frontrunners has coached in a top European league. Language would tend to rule out most working in France, Portugal or Eastern Europe, which suggests Holland, where English is widely spoken, as a likely source. If the Phoenix appoint a coach from the Netherlands, it would continue an Australasian trend.
Another candidate is said to have A-League experience - former Melbourne Victory coach Ernie Merrick was linked to the job by the Herald on Sunday in February - and could still be in the running.
Former Adelaide United assistant coach Phil Stubbins has also been on the radar.
The final contenders were brought to Wellington last week.
By all accounts, the hunt for the man to replace Ricki Herbert - which was promised to be a worldwide search - has been extensive and exhaustive. From over 300 applications, a long list of 12 to 15 names was compiled then reduced to six or seven. Those on the short list have been interviewed at least twice via Skype and in person. References were checked extensively and some applicants were surprised this included talks with ex-players.
Senior club officials spent time in Australia and Europe last month meeting shortlisted candidates again.
Ultimately, it seems the club might not snare a 'big name' but the successful applicant would have come through a rigorous process
The new man won't have it easy. He will be expected to turn the team around and rejuvenate an ageing squad. A number of players are off contract and their futures will need to be decided before a late foray into the transfer market.
The Phoenix owners have been steadfast in their desire for a new style of football but that will have to be balanced by the need for results, after forgettable campaigns in the past two seasons.
While his primary role will be sorting out the 'shop window', the new man will also provide input into the fledging academy programme. The number of players at the academy is set to be doubled over this season - from eight to 16 - and the Phoenix have a long term aim of developing a club wide style and system that permeates through all levels.