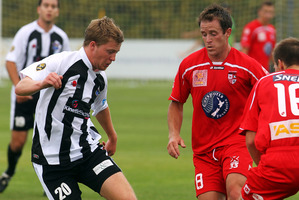 Another all-Auckland grand final looms large after Waitakere United and Auckland City claimed valuable away wins over Hawkes Bay United and Canterbury United in yesterday's first legs of the ASB Premiership semifinals.
Canterbury, who upset Waitakere in the final regular season round, will still hold some hopes of bouncing back from yesterday's 2-1 loss and need look no further than the 2009-10 season when they also lost 2-1 at home before winning 3-0 at Kiwitea St to get through to the final.
It will be harder for Hawkes Bay. After losing 4-1 at Bluewater Stadium they will head north on Saturday fully aware that in three meetings with Waitakere this season they have lost all three and scored just two goals while conceding 10.
Waitakere coach Paul Marshall was buoyant after the win, coming as it did after the disappointing loss to Canterbury.
"It was very good to get out and return to the same sort of style we have played for most of the season," he said. "It was more convincing than our 3-0 win here three weeks ago."
Marshall was helped by Roy Krishna's return as the golden boot winner scored twice to give the visitors their 2-0 halftime lead. Captain Jake Butler stretched that to three before Chad Coombes added a fourth. The Bay got one back with a 78th-minute Cole Peverley penalty.
"We had a different team out today but still scored four valuable away goals," said Marshall. "We have conceded only 13 goals all season and if you can score as regularly as we have you put yourselves in a good place to win."
In a late change, academy goalkeeper Alex Carr was called in to replace Danny Robinson, who stayed home with his sick wife and baby.
It was not a happy result for the home team in their first foray into the play-offs - the last of the eight teams to make it that far - and leaves them with a huge mountain to climb. Their chances were not helped when former All Whites striker Jarrod Smith lasted only 10 minutes before limping out of the game after his halftime introduction.
Chris Bale gave Auckland City their 16th-minute lead at ASB Football Park. They held that lead until Ashley Wellbourn's 69th-minute equaliser.
That joy was short-lived, however, as Manel Exposito had City back in front within two minutes.
City coach Ramon Tribulietx was happy with his result but remained mindful of what happened three seasons ago.
"We do remember that," he said. "But it was good to again score some away goals which might be needed in the final analysis. I think we played well in patches but at times we took time to readjust our touch on the artificial surface.
"Canterbury's morale was very high after their win over Waitakere but I felt we coped well in what was a good competitive game."