Caretaker coach takes heart from 'close group of players' at Phoenix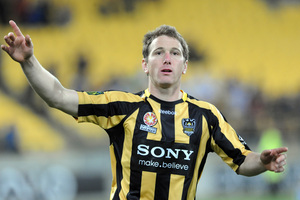 Chris Greenacre admits he has had to step into some big shoes with his appointment as caretaker boss of the Wellington Phoenix.
Greenacre stopped playing only last season, and is very much a greenhorn coach.
But with the resignation on Tuesday of long-serving coach Ricki Herbert, he has taken on the head coaching job in a caretaker role, moving up from assistant coach.
"It has been a roller-coaster of a week. Mixed emotions, I have been telling people," Greenacre said in Dunedin yesterday.
"The game against the Newcastle Jets came around so quickly so we had to focus on all the game planning. It has been a quite hectic week.
"But you are dealt the hand you are given. That is one of the features of this group here. We are a close group of players and just roll up our sleeves and get on with it and that is what we have done."
Often, when a new coach comes on board, the team rebounds and the victories start coming.
But it did not happen for the Phoenix against the Newcastle Jets on Wednesday in Wellington, losing 2-1 after conceding two sloppy goals in the first half.
Greenacre will want to turn that around against the Melbourne Heart at Forsyth Barr Stadium tomorrow afternoon, hoping a change of venue will help the side get out of its rut.
He said confidence went missing when the Phoenix fell behind.
That was clearly the case in the game against Newcastle.
"I think due to lacking a bit of confidence, heads dropped," said Greenacre. "I think conceding just before halftime was a big blow for us.
"It doesn't matter whether you are top of the table ... if you concede a goal just before halftime then it hurts you.
"But they showed a bit of character to get back into the game. Hopefully, there is a bit less pressure on us now and we can just get out and play football. It is all out of our hands now. Now we need to go out there and enjoy ourselves. Go out and make things happen," the coach said.
"It is tough. I have been in other teams which have been down the bottom and it is hard to shake. You are scratching your head. But if there is any group of players I would want to be at the bottom of the league then it would be these guys. I know how hard these guys work and how close they are."
The Phoenix have no serious injury concerns and can take confidence after beating the Heart 3-2 in Wellington just after Christmas.
But a good start is vital. Lately, the Phoenix have not been able to manage that, and that is why they are bottom of the A-League ladder. The Heart are fresh off a convincing 3-1 win over Sydney FC last week but they have an appalling away record and will not be presuming a win is in the bag.