Coach's 'weisse socken' outburst a sign of drive to make up for night of shame last May.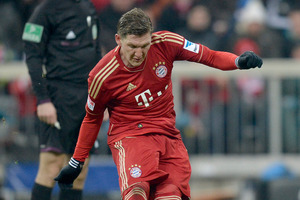 Jupp Heynckes was not happy. The Bayern Munich manager had seen something he found unacceptable. Weisse Socken. White socks. Unbelievable.
Had he not told the entire squad to wear black socks for this particular training session in Qatar? And yet there were Bastian Schweinsteiger and Toni Kroos in white socks.
"We have a joint goal we are working towards," he barked at the players. "We need discipline. And that starts with having the same socks."
He even wanted to fine the duo. In the end they arrived at a truce, but Heynckes had made his point.
"Did our manager overreact? No, I think he did the right thing," said the Bayern chief executive, Karl-Heinz Rummenigge.
The incident happened last month, by which time the manager already knew he was leaving at the end of the season. The Bundesliga club, who face Arsenal in the Champions League last 16 first leg tomorrow, were pursuing Pep Guardiola but the 67-year-old German was not going to go quietly.
Inside him raged a determination to make up for that gruesome night last May when his team had dominated Chelsea in the Champions League final but still managed to lose on penalties. At home. After missing an extra-time penalty.
That May evening club president Uli Hoeness was already thinking about the ruthless decisions needed to make Bayern winners again.
His first victim was sporting director Christian Nerlinger. The former midfielder annoyed the president last March when he conceded the title to Dortmund after a defeat against Leverkusen that left Bayern seven points behind the leaders.
"It gives the wrong signal to the team, when the club lies on its back and puts its four legs up in the air," Hoeness told die Abendzeitung.
"This is not a problem I have with Nerlinger's replacement, Matthias Sammer," Hoeness said. "He will fight until the bitter end."
Against Chelsea, Hoeness had also said Bayern needed a "calf-biter", a defensive midfielder who did the really dirty work - and enjoyed it.
They turned to Athletic Bilbao's Javi Martinez, a defensive midfielder who cost €40 million ($63.2 million).
Bayern started their season by beating Dortmund in the Super Cup and have won 18 of their first 22 league games and are 15 points ahead of second-placed Dortmund after this weekend's results. Away from home they have won 10 out of 11 games and conceded only once.
They have become a machine. All talk of Guardiola joining in the summer has not affected the team - or the manager. "The past six months have been great," Heynckes said. "To be happy at work is the most important thing." That, and matching socks, of course.
-Observer