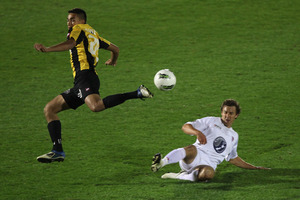 Enforced changes in the Auckland City and Team Wellington squads have only added to the intrigue ahead of today's ASB Premiership catch-up game at Kiwitea St.
The round five fixture, postponed due to City's involvement in Fifa's Club World Cup in Japan, is key for both clubs.
For City, who conceded three goals for the first time since last season's semifinal second leg in going down 3-2 to Waitakere United on Saturday, it is the chance to leapfrog second-placed Hawkes Bay United and close to within seven points of leaders Waitakere.
For Team Wellington, who beat Auckland City 3-1 in that semifinal, it is the chance of rare back-to-back success at Kiwitea St and the opportunity to drag themselves into the top four play-off race.
City coach Ramon Tribulietx said even in losing to Waitakere, he had taken plenty of positives from the game despite having Alex Feneridis sent off in the dying stages.
"We just have to move on," said Tribulietx. "We didn't seal it in the first half and then when they came back at us, we lost the plot. Despite that, I certainly didn't have the feeling we were going to lose.
"Waitakere are a good side but we have to remember it was just a three-point game, not a final.
"Chris Bale will come into the middle of the park in place of Alex [Feneridis]. I know we will be competitive but only if we put away the chances we create."
Team Wellington will, under an agreement between the two clubs at the time of his transfer, be without Luis Corrales for today's game.
ASB Premiership
Auckland City v Team Wellington
Kiwitea St
Today 2pm
Referee: Campbell-Kirk Waugh