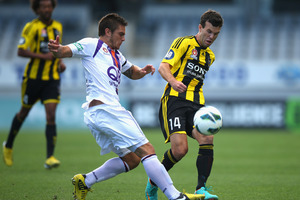 It's not yet a selection dilemma but the emergence of Ian Hogg finally provides Ricki Herbert with options on the left side of defence - for the Phoenix and the All Whites.
Tony Lochhead has been below par for most of this season, especially over the past month, though it was a suspension that granted Hogg his chance yesterday. He enjoyed a strong A-League debut at Eden Park, showing positive signs on attack and covering well on defence. He struggled physically towards the end but probably did enough to warrant selection for next week's match at Central Coast.
"It's about opportunity isn't it," said coach Ricki Herbert. "He did things well and stuck to the task. He really stepped up and I thought he was terrific. Can he do it again? Not sure - but unless we expose him to it, we will never know. It's a big one - away to the league leaders - but it will be a great challenge for him and he is figuring in the plans at this stage."
"It was a solid one," said Hogg. "I was happy defensively but I would have liked to get more involved on attack. It was my first 90 [minutes] in about five months so I struggled a bit towards the end."
He was reluctant to speculate on retaining his position, saying it was "up to Ricki" and he would "back any decision" that was made.
The 23-year-old showed his intentions early, sprinting past Paul Ifill on one of their first attacks to provide a cross. Another cross in the 28th minute saw Stein Huysegems volley narrowly wide. Hogg combined well with Ifill, though he could have gone looking for the ball more often. He positioned himself well defensively and a crucial second half sliding tackle snuffed out a dangerous Perth chance.
Hogg brings genuine pace and more of an attacking threat than Lochhead. There have been questions in the past over both his temperament and technique, though he has improved in both those areas.
Lochhead polarises fans but he is probably neither as bad as his detractors would believe, nor perhaps as good as his appearances for the club and country might indicate. He remains a tremendous athlete (still the fittest at the club) and has plenty of experience, including the qualification games against Bahrain and the epic matches in South Africa. However, he can be undone by world class opposition and lacks X-factor.
Hogg is short on experience but has made the most of his chances. Apart from his spectacular All Whites debut against El Salvador last year, he has performed creditably at two Olympics and at the Fifa Club World Cup. He deserves more chances over the A-League season, which could yet re-open the international door.
If Hogg manages to take his game to another level, it will push Lochhead to step up and will create the competition that exists in many other positions.